Pro IQRA News Updates.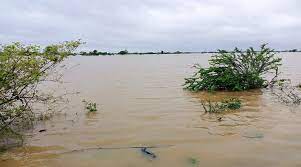 After a week's rest, there was heavy rain in many parts of the district on Thursday. Three people were swept away along with a bullock cart that came to the drain at Kalitenbhi in Mahagaon taluk. Fortunately, both men were rescued, but the woman is still missing. A short distance away, both the bulls were found dead. The same incident happened on Thursday around 4 pm.
Kamala Maroti Pawar (55 Ra. Kalitenbhi) is the boat of the woman who was swept away. She had gone to the farm with her husband Maroti Pawar (60). As heavy rain started in the afternoon, the Pawar couple and Margu Jadhav left for the village on a bullock cart. Due to the rain, the drains near the village were flooded. They threw the bullocket into the water as the old bullocket was drowned. At the same time, Maruti Pawar, Kamala Pawar and Margu Jadhav were swept away along with the bullocks due to the flood. Maruti and Margu Jadhav saved their lives by swimming in the cave and came out. However, Kamala Pawar was swept away. They were not searched until late in the evening. In some cases, both the bulls died. Revenue and Police are investigating the woman.
.