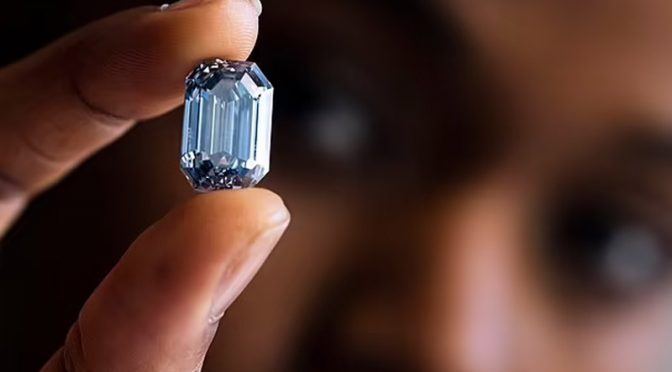 Hong Kong: (Web Desk) Beautiful rare blue diamond auctioned in Hong Kong, a record of 15 decimal 10 carat diamond sold for more than 9 billion rupees, which became the most expensive diamond ever auctioned. did it.
The Blue Diamond, the largest diamond ever auctioned, sold for seven million pounds more than its estimated value seven minutes after the bidding.
The diamond was discovered in South Africa in April last year. Diamond Sotheby's has become one of the most valuable diamonds sold at auction in Hong Kong.
Earlier, only five blue diamonds over 10 carats were auctioned. Prior to the auction, the diamond was exhibited in New York, London, Dubai, UAE, Shanghai, Beijing, Shenzhen and Taipei.
The Gemological Institute of America has classified the diamond as Fancy Wave Blue, because such a color of diamond is even more rare.
Prior to the sale, Sotheby's Senior Vice President and Sales Director for Jewelry, Frank Everett, said that De Beer Kleinen Blue Diamond is rare for a number of reasons, including its size, color, internal flaw, and shape.