Pro IQRA News Updates.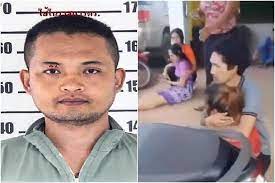 PUBER COLUM WEBDESK: At least 34 people were killed in an attack by a gunman in Thailand's northeastern province on Thursday, police said.At least 34 people, including children, were killed in a shooting at a kindergarten in the northeastern province of Nong Bua Lamphu. Thailand, according to the police, including 22 children. .
https://twitter.com/ThaiEnquirer/status/1577930925178245120?ref_src=twsrc%5Etfw%7Ctwcamp%5Etweetembed%7Ctwterm%5E1577930925178245120%7Ctwgr%5E360bc0d8ea1ea1933df5d8716a044450a1b0265b%7Ctwcon%5Es1_c10&ref_url=https%3A%2F%2Fwww.indiatoday.in%2Fworld% 2Fstory%2Fthailand-mass-shooting-knife-attack-killed-children-2008919-2022-10-06
In a video that has gone viral on social media, family members of the murdered children can be seen in tears. It is reported that the injured were taken to the hospital by ambulance. Another video shows police searching for the attacker.
According to sources, the attacker was a former policeman. Prime Minister General Pruitt Chan-Ocha ordered a search for the gunman, who was armed with a gun and a knife. A handout from Thailand's Central Bureau of Investigation Facebook page showed a photo of former police officer Pani Hamrab, who is believed to have killed at least 34 people at a kindergarten in the northern Thai province of Nong Bua Lam Phu.
.