The American measures imposed by the "Covid-19" virus pandemic prevented the family of a Canadian bride from attending her wedding in the United States, so she got married on the border between the two countries.
Ski coach Karen Mahoney and Brian Ray, who met 35 years ago, told CNN that after their engagement in March, they didn't want to wait long to get married.
Mahoney added that the presence of her parents and her 96-year-old grandmother was very important to her.
Mahoney explained, "She is my only surviving grandmother. I did not know another grandfather or grandmother in my life, so it was important to me and her, to witness to the happiest day of my life," noting that "the most important part of this occasion was the exchange of promises between us, and we wanted my parents and grandmother to testify to that."
Since the beginning of the Corona virus pandemic, the United States of America has limited "non-essential travel" through land crossings to Canada, and this measure is extended monthly.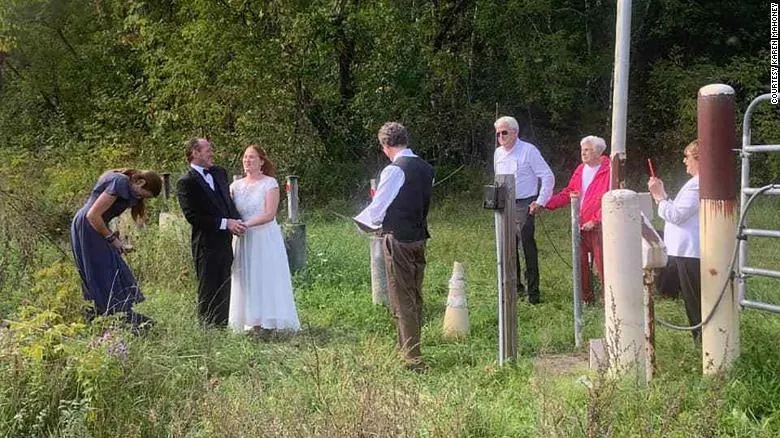 Mahoney pointed out that air travel between countries is possible, but she was afraid of exposing her family to greater danger despite receiving the full vaccine, due to the old age of her grandmother.
Mahoney recounted how a friend of theirs who works on a border patrol arranged a previous meeting with her family at the nearest border point, when her husband Ray asked for her hand in marrying her father Paul, and how they asked him again for help in the marriage ceremony.
And their friend explained to them the instructions that the participants in the wedding ceremony are supposed to follow, such as the obligation to keep everyone at the border of his country, and not to exchange anything. I also inform the duty patrol of what will happen if the wedding ceremony is spotted on the cameras in the area. They met at the border outside of Burke, New York, the day before their wedding, scheduled for September 25.
This land border crossing is closer to Marj, where the name of the country at this border point is written on each side in large font. There are no separating gates or fences to access the designated wedding site. The Mahoney family stood on Canadian soil, and the wedding ceremony took place on the opposite American soil.
"We couldn't have missed this event, whatever the cost," Mahoney's father told CNN affiliate WTPZ.
Ray and Mahoney described the experience as moving, with Mahoney noting that the priest asked her parents if they accepted that Brian pledged his love to her forever, and if they would accept him joining the Mahoney family. The parents answered, "Yes."
"I cried," Ray said, adding, "It made me so happy because I know how much it means to her for her parents and grandmother to witness our exchange of vows."
The two met in 1985, when Ray was coaching Mahoney to skate. And their friendship continued over time, even after they married other people, and each had two sons from their previous relationships, and then they met again ten years ago when Ray trained my son Mahoney to ski.
And Mahoney's Facebook post, wanting to sell her car that she loves so much, brought the two together again, as Ray knew how attached Mahoney was to the car, as a result of previous conversations they had exchanged about this… and what followed this chat was their love story.
The couple dated for a year, and in March proposed to her on the top of Mount Vermont. Mahoney describes the day as: "It was great skiing and the sky was blue. It was a perfect day."