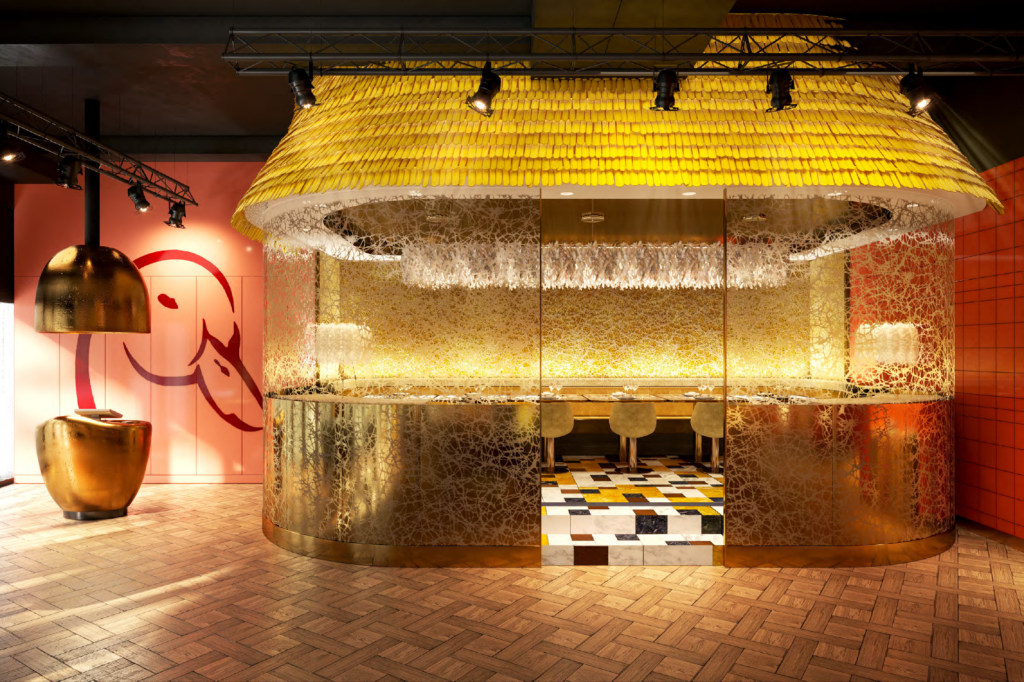 Pro IQRA News Updates.
You may have loved London's Duck & Waffle, but what did the sub-editor-in-chief do? Rosie Morton Making of Auld Reekie's new "metal dinner"?
The first time I visited Duck & Waffle in London it felt like a real treat.
The impressive 40th floor "gastro diner" on the 110th floor Bishopsgate certainly feels a far cry from the overpriced brunch outlets often found in big cities. In fact, at the original branch of Duck & Waffle, 360-degree views of London are served as a top-notch side for breakfast, lunch, dinner, or weekend brunch.
So, it was music to the ears of Edinburgh's culinary connoisseurs when Duck & Waffle announced that it would spread its wings by opening a branch in the Scottish capital. But Old Ricky has to pull off all the stops if he's going to match the towering heights of his London counterpart.
Today, the new restaurant – located within the St James Quarter shopping center – is finally opening its doors. Here's a preview of what to expect…
What is this?
For starters, Duck & Waffle is a "delicacy restaurant" that prides itself on its all-day menus, double libations, and quirky interior design. The menu is built around the brand's namesake dish – The Duck & Waffle, with crispy leg confit, fried duck egg and maple mustard syrup on a buttermilk pancake – which has been devoured by more than two million people…
While Edinburgh's menu features many of Duck & Waffle's signature dishes, it's also been designed to include local Old Alba produce. The beef, cheese and shellfish come from Scotland, with suppliers including Campbell & Sons Quality Meat, IJ Mellis, George Anderson & Sons, David Lowrie Fish Merchants and Ochil Foods. Some Scottish quirks have also been thrown into the mix. (This includes, of course, a fresh take on Mars' deep-fried bar—but more on that later.)
What's the atmosphere?
If you're looking for extremes, or a place to liven up your social media feed, you've come to the right place. In fact, there are many unapologetic appeals to Edinburgh's Instagram influencers: the brass mirror tunnel (which you pass through on the way to the balcony and lifts) and the multicolored graffiti wall (by local artist Amy Ireland) are selfie-opportunities awaiting.
Meanwhile, the main dining area was designed by Fable Studio, which ensures there are duck-themed flourishes at every turn. Think egg-shaped reception desks, feather-lined tables, and oversized waffle accessories.
The quack quirks continue in the restaurant's two dining departments. "The Nest" (which seats 14 guests) features a duck-feather canopy, while the 10 guests seated in "The Whiskey Room" will dine under the watchful eyes of blankets in butler's attire.
why not? Whimsical touches can be found everywhere you look in this cool, amber-hued venue, and with several open chef's counters and a stand-alone whiskey-themed bar, Duck & Waffle's intentions are clear: This is a place for honest food, good drinks, and a little theater.
verdict? It's bold. he's crazy. And honestly, it's amazing.
What about food?
During my preview, I met London Culinary Director Daniel Barbosa and Executive Chef Lucia Grigosova, formerly of Edinburgh steakhouse Hawksmoor.
I took a seat in one of the "pods" of the Duck & Waffle setup, which felt like sitting in the front row of a theater production. Soon an assortment of beautiful dishes began appearing across the counter.
First up were three Isle of Mull scallops, presented in a unique style with apples, jalapenos and truffle orange sauce. Two of the restaurant's unusually passionate sommeliers – Roberto Bravo and Michele Cosso – paired this with Philipponnat Champagne, and it seriously impressed.
What followed was a dish devoured with equal voraciousness: foie gras creme brulee with ham brioche. It remains a firm favorite among London diners, so there was little doubt in Daniel's mind that it would also appear on the Edinburgh menu. Unfussy and satisfying, with an intriguing sweet and savory contrast, this dish is best shared among friends.
This was followed by pork belly, which was cooked for eight hours and was topped with puffed pork scrapes. It was paired with earthy Château Ormes de Pez, Saint-Estèphe, 2017. This fatty cut of meat isn't something I'd normally enjoy, but (to my personal surprise) I'd order it again in a heartbeat.
You may have gathered that counting calories in this place is pointless. But putting in an extra hour at the gym is worth the effort, especially for this next innovation: the Deep-Fried Haggis Mars Bar. Sometimes you just have to admit you're wrong, and this is one of those (rare) occasions. I was horrified at the idea of ​​this taking a Scottish 'delicacy', but have spent the last couple of weeks raving to friends and family. It contains toppings of ox cheek, haggis, and caramelized duck fat, and is undoubtedly well worth the salad week that followed in an effort to nullify its influence.
Finally, the duck and waffle. Her name is above the door for a reason. If you're a fan of D&W, I highly recommend starting here. Crunchy, sweet, salty, gooey, and satisfying in every way.
verdict?
Edinburgh's Duck & Waffle couldn't be better placed for a weekend getaway. Prices may seem steeper than some of the other popular brunch spots in town (the Duck & Waffle platter is a whopping £24) but for a first-class meal served with theatre, it's worth the splurge.
To learn more or reserve a table, visit the Duck & Waffle website.
In addition, read more news and reviews at Scottish FieldFood and drink pages for Barrel & Steel magazine.
.