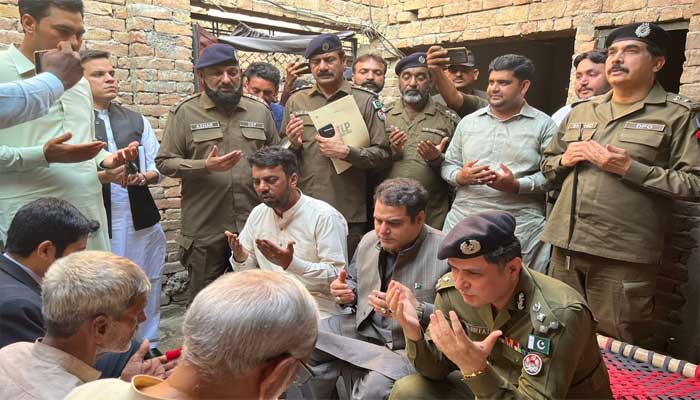 A 17-year-old accused involved in the kidnapping, alleged rape and murder of a 12-year-old girl has been arrested in Burewala while raids are being carried out to nab another accused.
DPO Vehari Rana Shahid Pervez while addressing a press conference at Sub-Divisional Police Office said that on June 13, 2022, the 12-year-old daughter of Nazir Ahmed, a resident of Iqbal Nagar Street No. 7, Burewala, went missing. Was
Her abduction case was registered against unknown suspects, but the girl's body was found eight days after the abduction. Police had formed six teams to arrest the culprits.
Police teams analyzed and interviewed data from 185 households and more than 500 people in the area.
However, last night, the police arrested a 17-year-old accused named Wasim involved in the incident in a dramatic manner. The accused has also confessed his guilt before the Sessions Court.
According to the DPO, the accused and his half-brother killed the girl after abducting and allegedly raping her. Police are conducting raids to nab the other accused.
DPO Vehari said that the condition of the girl's body was very bad but we have collected samples of her body parts and sent them to the forensic laboratory, the results of which will also be used in the final challan.
Following the confession of the accused, the case will be challaned under the provisions of abduction, alleged rape, murder and terrorism of the girl and sent to the special court for speedy verdict.
Meanwhile, RPO Multan Raja Rifat Mukhtar, Commissioner Multan Amir Khattak, MNA Chaudhry Faqir Ahmad Arain, DC Vehari Mian Rafiq Ahsan, DPO Vehari Rana Shahid Pervez, DSP Burewala Azhar Khan, AC Burewala Abdul Basit Siddiqui, Sardar Shahid Javed Dogar, former Vice Chairman Baldia Iftikhar Ahmed Bhatti and Chaudhry Osama Ahmed Arain visited the house of the victim and informed the bereaved parents about the arrest of the killer and offered Fateha for the reward of the victim.
On the occasion, the locals thanked the police, administration and dignitaries for their efforts.
.