Pro IQRA News Updates.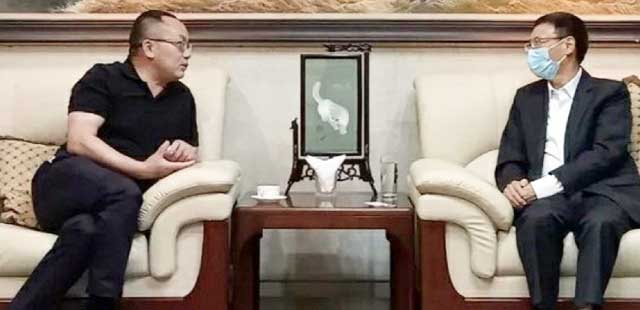 Special report
KARACHI: Consul General of China in Karachi Li Bijian met with Zhang Yazhou, Deputy General Manager of International Engineering Department of China Communications Construction, here at the Consulate General of China on Monday.
They exchanged views on the development of the Gwadar region, especially the progress of the power plant project. Consulate General Counselor Yang Guanyuan, Chen Sanan, Deputy Chief Engineer of China Communications Construction International Engineering Branch, Zhao Bo, Chairman of CCCC Pakistan Electric Power Company, Li Yanfeng, General Manager, Hu Yaozong, General Manager of China Communications Construction Pakistan Branch, as well as Deputy Consul Deng Haixiao and others.
Zhang Yazhou presented CCCC's work in Gwadar region, especially the progress of the power plant project.
Consul General Li praised CCCC's long-term contribution to the construction and development of Gwadar, overcoming many difficulties, and noted that sufficient, stable and controlled energy supply is the key to Gwadar's industrial development and livelihood improvement.
He said the CCCC should pay close attention to this. In view of the international and domestic situation in Pakistan, actively communicate with the government of Pakistan, conduct extensive research, fully demonstrate and steadily promote the construction of the project.
The Consulate General will actively support the development of the CCCC in the Gwadar area, as well as the development and construction of related projects.
.