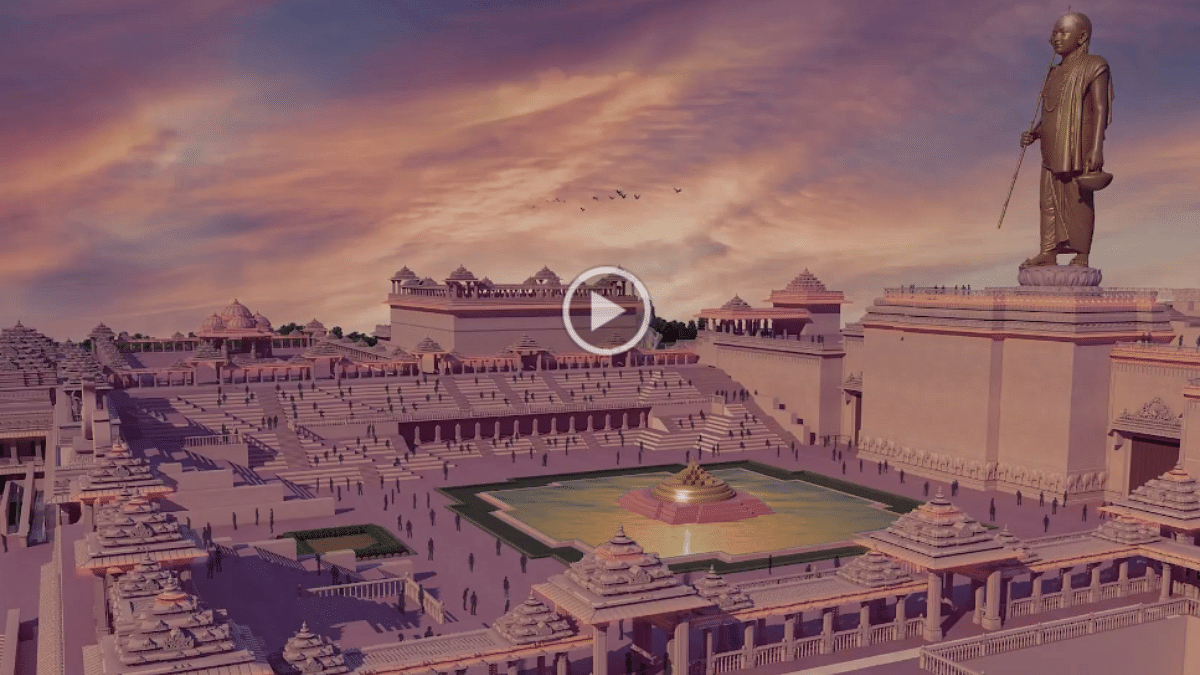 News Updates.
New Delhi: 'Ekatm Dham' is being built on Mandhata Mountain in Omkareshwar, Madhya Pradesh. In this, the 108 feet tall multi-metal statue of Acharya Shankar "Statue of Oneness" is completed. Along with this, a large museum and an institute of Advaita Vedanta 'Advaita Lok' was built. From 15th to 19th September, Vedic rituals of worship and 21 Kundiya Havan will be performed by renowned sages and saints of the country.
Madhya Pradesh Chief Minister Shivraj Singh Chauhan will inaugurate this statue of unity on September 21.
In the program for the unveiling of the statue, Prasthanatrayi Bhashya Parayan will be recited every day from September 11 to 19 at Mandhata Mountain from 9:00 AM to 7:00 PM. In addition, Vedic rituals will be recited from September 15 to 19 by the country's renowned sages and saints. Worship and 21 Kundiya Havan will be performed.
The statue of Acharya Shankar installed in Ekatma Dham has been named "Statue of Unity". This 108 feet multi metal statue is of 12 year old Acharya Shankar.
There is a 75 foot pedestal at the base of the statue. This idol is installed on a 16 feet lotus made of stone. This statue has been made on the basis of the picture made by the famous painter Shri Vasudev Kamat.
Good journalism matters, even more so in times of crisis.
ThePrint brings you the stories you need to read, from where they happen
We can only continue if you support us with our reporting, writing and photography.
subscribe now
Eleven sculptors from India were selected to create the statue based on the image of Shankar in the form of a 12-year-old child made by Vasudev Ka Mat. After these 11 sculptors presented a 5 foot statue, 3 of them were selected by the selection committee.
what is special
Based on Acharya's life, philosophy and creations, paintings are done by famous painters of the country in various styles and Kerala Mural, Pattachitra, Kangra, Madhuvani and contemporary styles, which will be displayed in the art gallery.
Below the statue of unity there is a huge pillar in the main building called Shankar Stambh. The Shankar Stambh is 45 feet high and its span is about 100 feet.
32 events from the life of Adi Shankaracharya will be displayed in low relief at the Shankar Stambh. The display of the mural will be clockwise.
Annapurna Restaurant
There will be a restaurant called Annapurna in Ekatm Dham. It will be located east of the museum.
In Annapurna, seating for about 300 to 500 people will be made inside the building and there is a plan to make seating for about 700-1000 people outside. The seating arrangement will be in both traditional and modern styles.
There will also be arrangements for special dish 'Advaitbhog' for all visitors visiting Annapurna which will be available at reasonable prices for all people.
Apart from this, specialty foods from all the four directions/regions of India will also be available. Arrangements for main dishes from Madhya Pradesh will also be made.
This huge project has been designed by CP Kukreja Architects.
The release quoted the Chief Minister as saying, "We are fortunate that eminent experts are lending their expertise in the construction of Swami Ekatm Dham. We hope that Ekatm Dham will keep the teachings of Sri Adi Shankaracharya alive and will be one of the most revered spiritual the places."
---
Also Read: IIT Mandi Professor Linked Floods To Menstruation, Said – Ignorant People Eat Meat, Drink Alcohol
.