Pro IQRA News Updates.
Important events
81 minutes A great cross from Zaha, Palace's best player, flashes across the Arsenal area. Clyne retrieves it on the far side and puts it back to mid on. Xhaka heads clear.
81 minutes Arsenal look like they've settled for 1-0, and in fairness they're defending quite comfortably. Saliba and Gabriel look really solid in the center of their defence.
80 minutes "No, it's Xhaka who is the most mispronounced name in the Premier League," says Per Horfelt. "He's originally Albanian and pronounced 'jaka' over there. Ask my wife, she's Albanian.
79 minutes Eze's free-kick is headed down by Anderson and Gabriel hacks clear.
76 minutes "Anything can change and everything is possible," says Yash Gupta, "but as expected this Arsenal team looks no threat."
it is a just a little Tough, though they've definitely worn off since that blister started.
75 minutes Another palace alternative. Luka Milivojevic replaced the tiring Doucoure in midfield.
74 minutes Doucoure has pain. which allows all other players to drink.
73 minutes "Roberto Firmino by an absolute country mile," says my colleague John Windmill, answering a question from Joe Johnson after 68 minutes. "Firminho or even Firmino. Drives me (and by extension, my wife) up the wall.
72 minutes Zaha cuts in from the left and a shot is blocked by White.
72 minutes This is Eze's chance at the start of the second half. The pass from Zaha, the sudden thrust of the dagger, was delicious.
71 minutes Andersen has played some brilliant passes tonight, notably out to Zaha on the left.
70 minutes White plays a great pass inside Mitchell to find. Saka. He moves into the area, but Mitchell recovers and eventually Saka sprays high and wide from a very tight angle.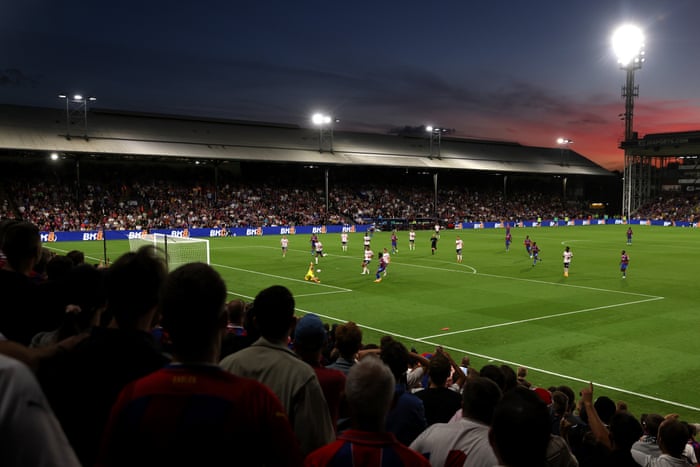 68 minutes "Hello Rob," says Joe Johnson. "The start of a new season, a long, longing stimulus to the mind. I was reliably informed by a Norwegian friend that Ødegaard should be pronounced 'Erdegord'. I wonder: Which Premier League footballer is named Sabb?" Has been spoken more incorrectly than?
I have no idea, but I remember when Ole Gunnar Solskjaer scored a goal for Manchester United, and the (usually) great ITV commentator Brian Moore shouted "Shoals!" was chanted. What made it even more impressive is that Paul Scholes was not on the pitch at the time.
66 minutes Schlip collects a loose ball, gets into the area and has a shot blocked by Party. If Arsenal don't win this game, they will regret a slightly passive second-half performance.
64 minutes For half an hour it looked like Arsenal would run away with it. Since then it has been a very even game. Meanwhile, Clyne has been booked for a foul on Martinelli.
62 minutes A Palace corner caused a flurry in the area, with Ramsdale saving a shin from his own player Gabriel. It won't count because Anthony Taylor blew up for something else.
60 minutes White is booked for a foul on the increasingly influential Zaha.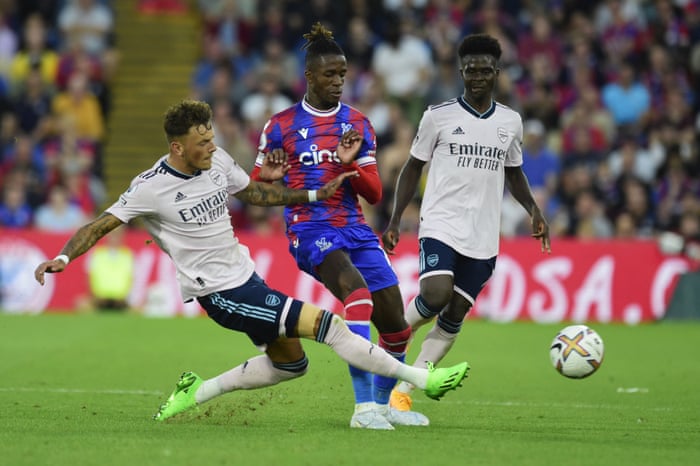 59 min: Chance for Odegaard! Issa steals the ball from the blazing Ghee and charges into space from the right. He squared it up to Odegaard just inside the area, but Odegaard clearly tried to find Martinelli when he should have gone for the goal himself. The ball turns to Jesus in an offside position, and he has a shot blocked by Anderson. Jesus' pill doesn't count. Odegard's will, if only he had one.
58 minutes The first of many, many, many, many substitutions this Premier League season: Jean-Philippe Mateta replaces the disappointing Odense-Edouard for Palace.
56 minutes Odegaard hits it over the wall and wide of the near post. A reasonable effort.
55 minutes Mitchell fouled Saka 22 yards from goal, a decent route to right of center. Odegaard might like this…
53 minutes Zaha's cross bounced off the white and hit his arm. No penalty. Zaha recovers the ball, beats White in the area and is tackled powerfully by Saliba. He is making a great debut. And Zaha, after a slow start, looks ready for it.
51 mins: Good save by Ramsdale! Saka's corner is headed away by a break from Anderson and Palace. Eduard lost the ball, but Palace won it straight away and Zaha sent a beautifully angled pass past Aze on goal. Eze takes a sure touch, opens his body but then drives his shot straight into Ramsdale's legs.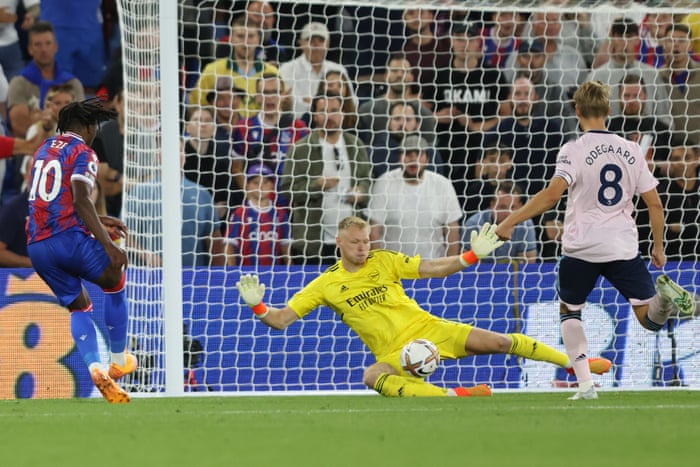 51 minutes Odegaard's shot from the edge of the area is deflected for a corner…
50 minutes Palace started the second half well, picking up where they left off at the break.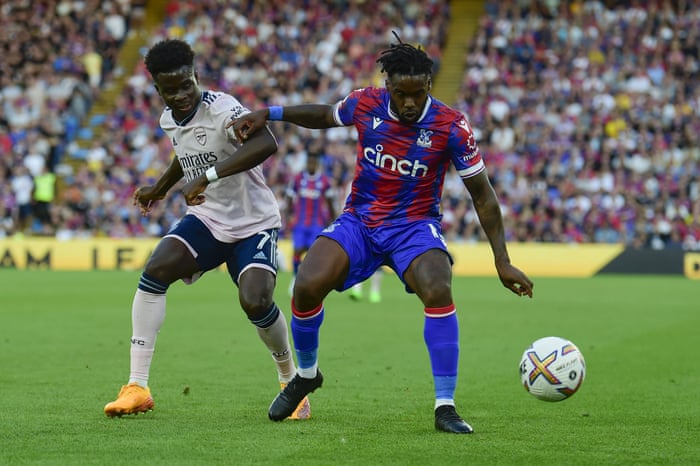 47 minutes Schlapp creates space for a long-range shot that hits Gabriel and curls back for a corner. It is swung by Eze and dropped by Ramsdale, who is grateful to catch it at the second attempt.
47 minutes Ayew's cross eluded Saliba and collided with White, prompting appeals for a penalty from the Palace fans, if not the players. Not doing anything.
46 minutes Peep Peep! Arsenal started the second half.
Meanwhile, in Germany
Congratulations to Bayern Munich on winning their 11th Bundesliga title in a row.
Good to see that Xhaka has started the season. In usual form," says Rachel Clifton. "Now that David Luiz has gone, he brings that edge to the Arsenal team: which version will show – the good player or the absolute. [redacted]?
Half-time: Crystal Palace 0-1 Arsenal
Peep Peep! Arsenal take the lead through Gabriel Martinelli's close range header. They made a sensational start, with Gabriel Jesus looking brilliant, but Palace gradually came into the game and Odense Eduard had two chances just before the break.
45 minutes Eduard has two shots blocked in the space of five seconds, the second by Xhaka in the six-yard box. Very good defense. This is Mahal's best spell of the game, by far.
44 minutes Xhaka is booked for diving. He doesn't have it, but it was a good decision by Anthony Taylor.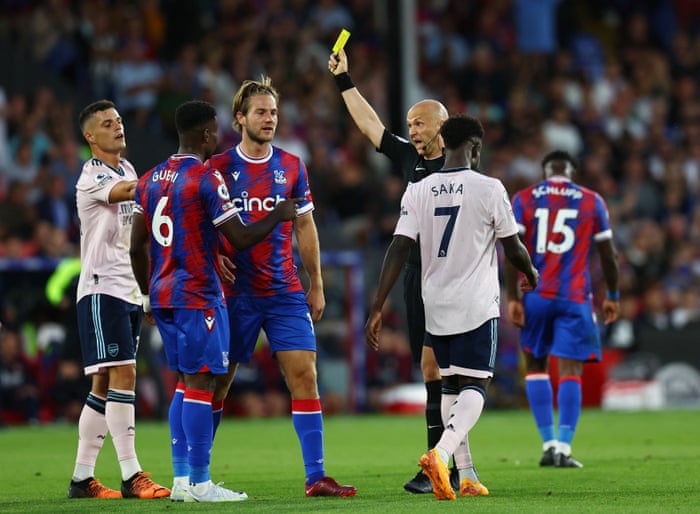 43 minutes "What does handball mean?" Mary Waltz says. "It's like the phrase 'salt to taste' in a recipe. Some for a teaspoon, others for a cup.
42 mins: Good save by Ramsdale! A couple of spirited challenges near the halfway line, culminating in a foul by White on Zaha. The free kick is headed past the far post by Eze towards Anderson. He returns a header across goal that finds Edward, whose curling header is too close to Ramsdale. It was still a good save from Ramsdale, diving to his right, but Edward should have given it no chance.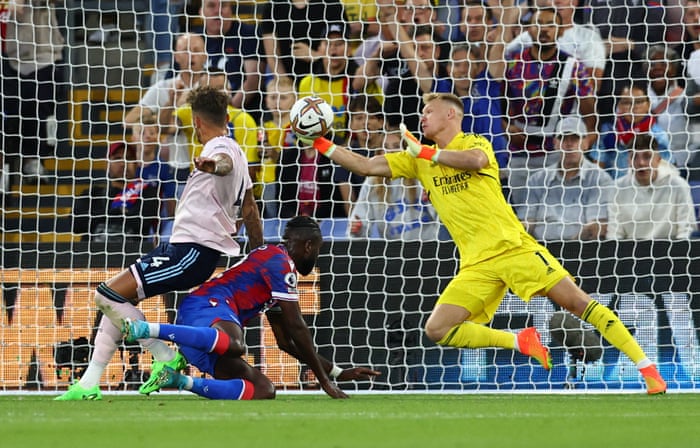 40 minutes "Re: summer night fixtures – those early rounds of the Intertoto Cup were great for these types of games, especially against Scandinavian teams," says Alex Adams. "That evening sunlight blends perfectly with the floodlights. The grass almost glows."
damn it. I did the '1st Intertoto Cup Mention in MBM' swap on December 12th.
39 minutes It's a close game now. Arsenal still look comfortable but Palace have an equal share of possession and Anderson's long passes are starting to bring some joy.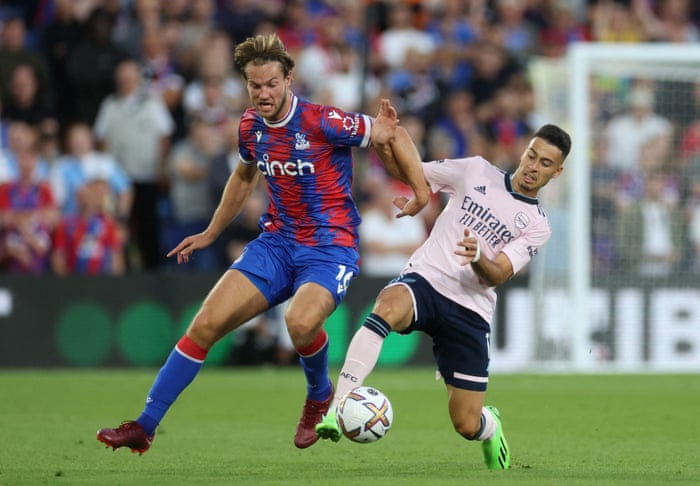 37 minutes Klein takes a loose ball off Xhaka's foot in the Palace area. It looked like a second Arsenal goal, even at this stage, would probably kill the game.
35 minutes Palace unsuccessfully appeal for a penalty when a high ball lands on Gabriel's slightly outstretched arm. I thought VAR might see it, because it looked like his arm was away from his body, but I have no clue about the handball now.
32 minutes Anderson's long pass was deftly pulled down by Zaha. He runs at White in the area, twisting one way and then the other, but Saka gets on his blind side to nick the ball. Good defense.
32 minutes A bit better magic is happening at the castle, starting with the Ramsdale Clearance. But Arsenal still look very comfortable in defence.
30 minutes "I've been watching the game and I'm still very impressed with Zanchenko," says Oliver Corden. "Clever, quick, secure… probably easier to stand out here than City's sea of ​​talent and Pep's highly precise tactics… He could really be a game-changer for Arsenal. And Jesus ain't bad either." Is.
And he's not even playing in his best position. When Tierney is fit to play at left-back, you will have excellent options in midfield.
29 minutes A dodgy clearance from Ramsdale hit Edward but rebounded safely to Gabriel. If nothing else, it could rock the Palace crowd.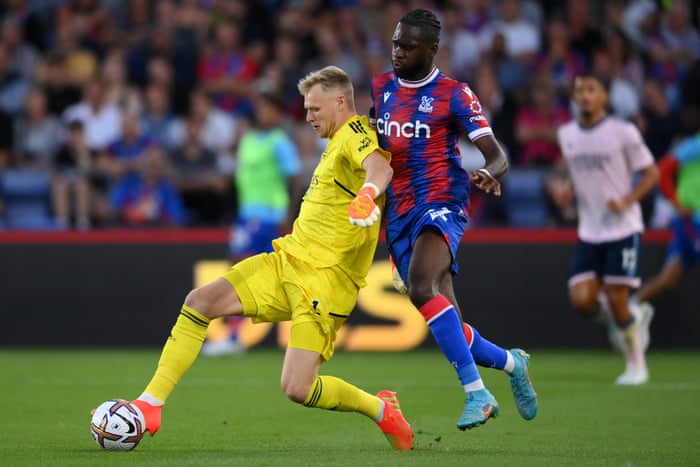 28 minutes "Do you or anyone else like night matches when there's a lot of light?" says Ruth Perdue. "End of Summer or Spring?"
Absolutely, especially the European knockout games. I remember them.
26 minutes Jesus turns Anderson sensationally halfway through, then seems to back off. Anthony Taylor gave nothing.
26 minutes Here is Gabriel Martinelli's opening goal.
26 minutes "Just a quick note to say how much I love the Arsenal kit," says Andy Bradshaw. "What are red pants left in the wash called?"
This is the time!
25 minutes Zaha's cross towards Edward was cut out by Saliba. The palace attack seems a bit tentative.
23 minutes Arsenal have 66 per cent possession and Palace have five shots.
22 minutes Jesus passes through a few players in this area before being cast out. "He looks. fast"His touch and movement have been first class," said Jamie Carragher on Sky Sports.
It came from the training ground corner on the right.. Saka played it deep to an unmarked Zanchenko, who cleverly ran into space beyond the far post. He headed it back across goal, and Martinelli's gentle header from six yards went past Guetta.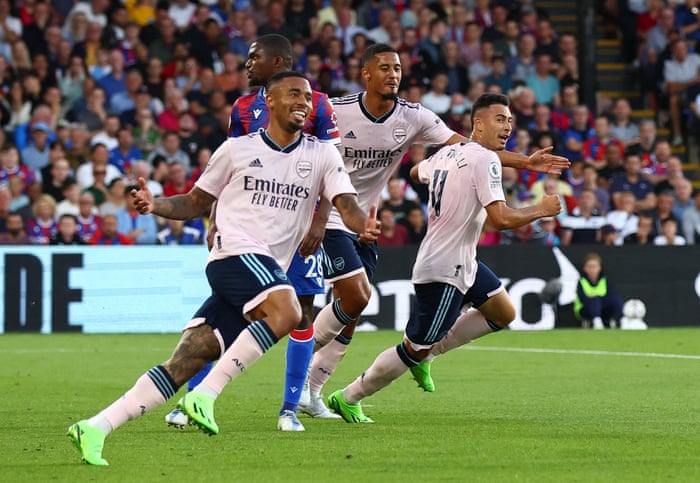 Goal! Crystal Palace 0-1 Arsenal (Martinelli 20)
Arsenal took a deserved lead!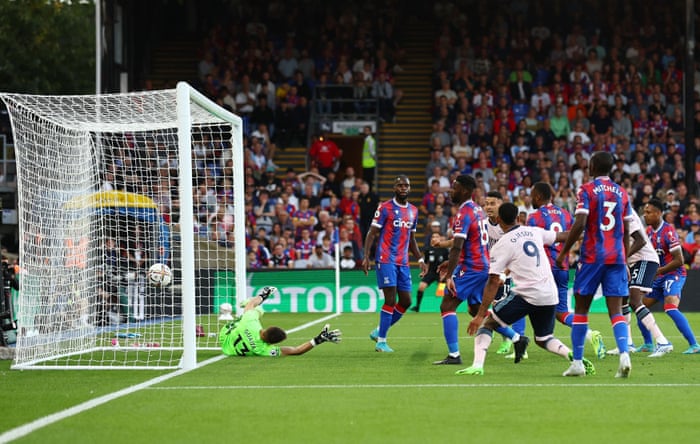 .