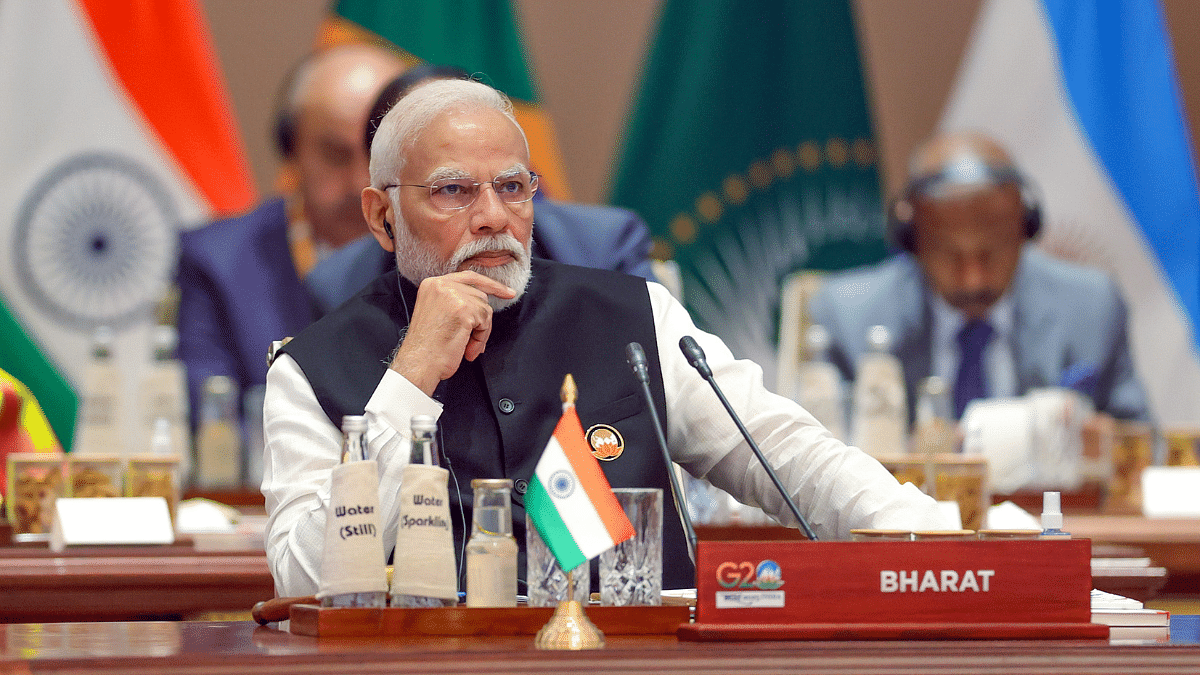 News Updates.
When I titled my book in August 2022 "We the People of the States of India: The Making and Remaking of India's Internal Boundaries" Had I anticipated the debate on renaming India to Bharat? The curiosity of my readers has increased to know this. While I would like to give myself credit for such an "insight", I must make it clear that it is beyond my understanding to predict the future. Fortunately for me, the appearance of "India" at the G20 coincided with the release of my paperback book, which led to a sudden surge in sales. I have received invitations from many universities and libraries across the country – and even the UAE – to discuss my book.
But before we discuss Bharat and India, there is a reference to both in Article 1 of the Constitution – which reads "India, that is, a Union of States". We must look at a historical reality: how the geographical region that now includes India, Pakistan and Bangladesh came to be called "India" instead of "Hindustan". This name was widespread before the arrival of Europeans. It serves as a vantage point for constructing different narratives of Indian history.
A real idea of ​​Hindustan as a cultural, political and spatial unity was expressed in contemporary history in several languages, including Arabic, Persian, Sanskrit, Prakrit and later Urdu, mainly between the 15th and 19th centuries. . Bharat became popular as a preferred name when the East India Company (EIC) began acquiring territory for its provinces. Founded first in Madras in 1640, then in Bombay in 1687, at the same time as the Surat factory was transferred to the islands, and finally in 1690 at Fort William in Calcutta (now Kolkata).
It was in Bengal that the EIC began to exercise "sovereign" power after the Battle of Plassey in 1757 and the Battle of Buxar in 1764, which resulted in the formation of the Bengal Presidency in 1765. After this, British maps began to show the conquered territories. For this, methods such as betrayal, unequal treaties and asymmetric trade relations in the form of "Indian property" were used. Perhaps the last time Hindustan was used by an EIC officer was in 1768 when Alexander Dow, an infantry officer in the EIC's Bengal Army, History of Hindustan Wrote a book called
Ever since Warren Hastings took command of EIC operations, the British have called and referred to the subcontinent as India. But for more than a century, i.e. until the revolt of 1857, the country's name was always taken as Hindustan in the advertisements and conversations of the rebel leaders. He used to talk about freeing this country from foreign (foreign) rule. This confirms that even a hundred years after Robert Clive's historic victory at Plassey, the idea of ​​Hindustan as a political and geographical entity had not ended.
Good journalism matters, even more so in times of crisis.
ThePrint brings you the stories you need to read, from where they happen
We can only continue if you support us with our reporting, writing and photography.
subscribe now
At the turn of the century in 1904, Muhammad Iqbal wrote his famous patriotic song better than any place Wrote in Urdu and spoke with pride about 'Hindustan' and its diversity.
In 1909, MK Gandhi wrote Hind Swaraj to spread his ideas of village republics and national education in Hindustani languages ​​in universities, the most prominent of which was the Kashi Vidyapeeth, alma mater of former Prime Minister Lal Bahadur Shastri. When Savarkar the same year "War of Independence 1857" In writing this, he completely changed the discussion of the revolt of 1857, which came to be recognized as India's first war of independence. In 1937 he gave a speech in Ahmedabad, in which he said: 'Hindustan must always remain one and indivisible.' The revolutionary Bhagat Singh named his youth organization the Hindustan Socialist Republican Army in 1928 and in 1943 Subhash Chandra Bose chose Azad Hind Fauj as the name of his army.
---
Also Read: 3 Institutions Left Leaderless For A Year – Research and scholarship in India is an institutional problem
---
India's transition period
My study of Indian history shows that 'Bharat' gained prominence with Rabindranath Tagore's Jana Gana Mana, which is now our national anthem. The poet himself sang it at the Congress meeting in Kolkata on 27 December 1911. Over the next two decades, "India" took hold in popular perception and several Bharat Mata temples sprang up in Varanasi and Haridwar. Calendars depicting 'Bharat Mata' and many commercial establishments promoted this idea along with nationalist ideology.
Nehru spent time in Ahmednagar Fort during his prison years (1942–1945). Wrote The Discovery of India And mentioned: "Often, when I went from one meeting to another, I used to talk to my audience about our India, Hindustan and Bharat. Bharat – An ancient Sanskrit name derived from the mythological founders of the caste." Thus, on the eve of independence, all three names – Hindustan, Bharat and India – existed in the subcontinent. Hind was also frequently used in Jai Hind, which Nehru, Vallabhbhai Patel and Bose used at the end of their speeches.
---
Also Read: 6 Books For Students Of Doon Literature – Why Chose Them, What They Say About India 1900-1947
---
India vs Pakistan
On the eve of withdrawal from India, a powerful section of the British establishment wanted the two countries to be called Hindustan and Pakistan. The British felt that India was their creation, built on the region of Hindustan, which included present-day Pakistan and Bangladesh. This argument is echoed in Ahmed Asif's book The Loss of Hindustan: The Invention of India Credibility is in. In fact, the person who first rejected Hindustan and insisted on naming the country as India was VP Menon. According to a former Secretary to the Government of India, the adoption of this nomenclature made Pakistan a separate part of India, making India the successor state to British India.
This argument was supported by both Nehru and Patel as well as BR Ambedkar, who said during the debate in the Continental Assembly, "India has been known as India throughout history and for many years before". His argument was that the name of the country in the United Nations was "India" and all agreements were signed in this name. As a result, a consensus was reached among the members of the Constituent Assembly on "India, i.e. Bharat".
Although Hindustan is not included in the constitution, it has been linked to some of the country's top public sector undertakings (PSUs) and companies by name – Hindustan Aeronautics Limited (HAL), Hindustan Zinc Limited (HZL), Hindustan Latex Limited (HLL) Hindustan Shipyard Limited and the highly successful Hindustan Computers Limited (HCL) etc.
Now finally I would like to say that victory to Bharat, India and Hindustan.
(Sanjeev Chopra is a former IAS officer and festival director of Valley of Words. Until recently, he was the director of the Lal Bahadur Shastri National Academy of Administration. His handle is @ChopraSanjeev. Opinions expressed are personal.)
(Editing by Rishabh Raj)
(Click here to read the article in English)
---
Also Read: India Should Have 50 Or More States, UP's Dominance A Cause Of Resentment
---
.