Nimr Saadi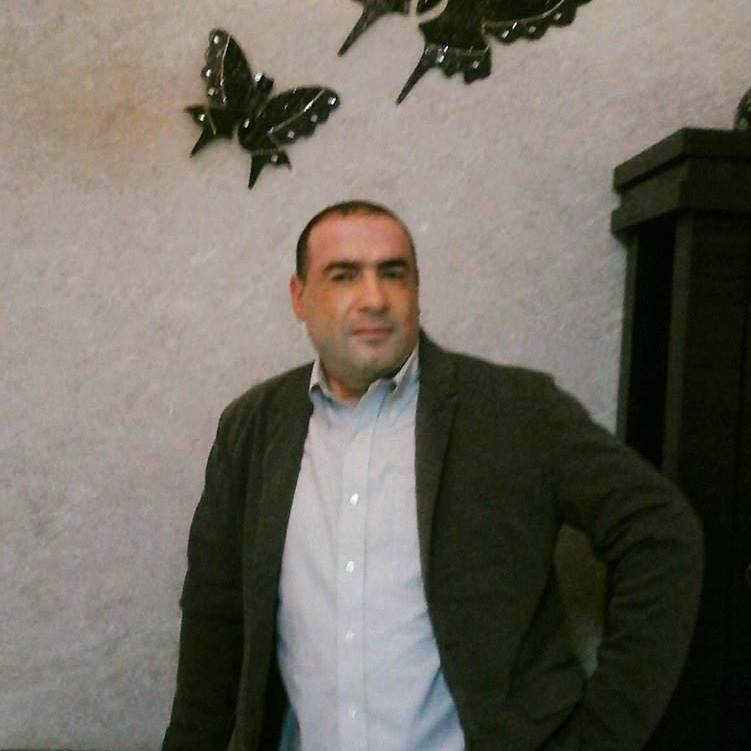 / Palestine
To write poetry in this age means to dream alone and lying on a train track out of time..or live with your soul wandering on the sidewalk of a galaxy millions of light years away from you. The poem is in one of its finest descriptions, liquid mirrors all the way to the other bank, for me to dismount from it and to write me with brush strokes in the hand of a professional painter, who knows very well what he wants from the piece of cloth in his hand. Just as a true poet knows what he wants from a poem, and as long as I am talking about poetry, mirrors, dreams, feminine inflections, invisible springs in the air of memories, and the transparent watery shirts of desires, I will tell you about one of the most inspiring Arab poets. in KSA.
I have known the Saudi poet Ali Al-Dumaini for more than a decade and a half. Before I got to know Facebook and other social media platforms, I used to send him my poems on his personal e-mail and he, in turn, celebrated and published them on his favorite website, "The Platform for Dialogue and Creativity." At that time, the threads of a true poetic friendship between us began to entwine, whose roots may be traced back to five or more years before that stage, i.e. at the beginning of the third millennium. I only knew two of them.. Ali al-Dumaini and Muhammad al-Thubaiti.
That friendship formed as a small cloud.. I started from my side towards Al-Dumaini's poems written with great human passion and with an intense aesthetic sense and with the same calm and elegant poetry. Mysterious for a distant autumn. With a spontaneous, instinctive obsession haunted by nostalgia, I followed the footsteps of this charming pastoral poet haunted by the manifestations of the desert and the beauties of places, and the dreamer of the gardens of freedom, crowded with the sweetest and purest songs of femininity. And today, after more than two decades have passed and reading all of Al-Dumaini's poetry collections and his wonderful prose book "A Time for Prison… Times for Freedom," I ask myself: Will I ever recover from the love of this exceptional creator's poems? I answer with confidence and love: I don't think… Rather, I can't… Between me and his poems there is a great attachment and chemistry that is difficult to explain or understand its secrets.. I always refer to his fresh collections that are oozing with the water of language and its first seduction.
Twenty years ago, I followed this creative poet with imprisoned breaths. His poem with her magical voice attracted me as well as the Siren Odysseus, since I read his beautiful testimony entitled (I am not a guardian of anyone) in the book (The Horizon of Transformations in the Arabic Poem). It included poetic testimonies of the most prominent Arab poets, in the middle of In the summer of 2001, Al-Dumaini was one of my most beautiful poetic fathers and one of the few outstanding poets I was influenced by at that time. His voice was able to retain its originality, purity, purity and legendary elegance, even if it was repeated in my heart hundreds of times.. This is the test that the poem must pass on its way. For beauty to exchange and pure metaphor.. His poem is a victory for love, for freedom, and for humanity. It has something of the originality of Abu Nawas's innovations and the pride of Al-Mutanabbi's poetry, something of the sincerity of Muhammad al-Maghout and the sweetness of al-Sayyab.
Professor Al-Siddiq Ali Al-Dumaini is for me not only a poet.. He is a transparent person with the utmost nobility, honesty, honesty and loyalty.. He is a unique and beautiful poetic being who made my heart a shining star possessed by silver dust, and in a magical way one of my books was held in his hand with all the ashes of his secret temptations and scattered in the face of the sun. Poetry for al-Damini is a way of life or an initial training in the exercise of hope, freedom, reading of things, and the pursuit of pure beauty. It is a gateway open to eternity and a balcony extending to green heavens.
The great Tunisian poet and critic, Dr. Moncef Al-Wahaibi, did not exaggerate when describing him: "Ali Al-Dumaini is one of the few contemporary Arab poets whose reading does not tire, and every reading reveals to us an aspect of the text that we did not pay attention to. There is no justification for that except this living Arabic, in which the water of poetry flows. There is no camouflage or allegorical dressing that has no support from the text, as we find in much of our poetry today; It is a rhetorical coating and what is below it is like poetry. And in his distinguished poetic work ("Kharaz al-Waqat" The Arab Spread, Beirut, first edition 2016) we recall the "naïve" question: How can a poet be a poet? Or how hair is poetry? And in the poem there is a risk or a risk that is due to the poet as he "sews" or writes, in the face of something he does not understand as it is taking shape, and does not know it while it is unknown to the poem. Then he discovers that the poem has been "completed" that it is itself and is building, and that the text or this "weaving" is a calculated risk from it." Whenever I read to al-Dumaini, I remember the cries of Tarfa ibn al-Abd and the lyricism of Imru' al-Qays. hidden and pours it into new moulds.
Like a different poet, he tries to furnish the Arab poetic memory with water, sing outside the flock, and sew his pastoral metaphors with subtle spectra of the light of nostalgia, love, and the rainbow. His poetic testimony "I am not a guardian of anyone" that love, even if silent, is fuel for poetry: "There is no fuel for poetry greater than the experiences of silent love between two parties, neither of which dares to reveal it, and it becomes a fire that does not ease its burning except by declaring a state of disobedience to traditions Which I have no ability to bear its consequences, so emotional storms were nothing but a composite of poetic revelation and adherence to its conditions."
Saudi poet and academic Dr. Fawzia Abu Khaled says about the poet Ali al-Dumaini, "The poet extended his hand in the water of poetry and, early in the late seventies, brought out hot springs and rogue fountains from the eyes of modern poetry, creating a symbolic and field presence for us in the arena of Arab poetry after it was a seat Saudi Arabia is vacant in that poetic arena bustling with the Arab presence. Ali al-Dumaini was a gentle and ferocious leader in hijacking the flame of poetry with the constellation of the eighties, and forcibly carrying it around us, to cast on our local cultural arena a fire that dispels histories of isolation and coagulation. Ali Al-Dumaini's audacity as a poet was not only limited to his invention of writing the poetry of Al-Tafilah, but it was also manifested in his poetic ability to write a poem that enjoys in its passage everything in the poetry of the soaring Arab muallaqat across times and places of depth, strength, "gallery" and "zajalah" to the extent In which it can be said that Ali al-Dumaini's poetry is the poetry of modern mu'allaqat."
It is difficult to comprehend the experience of a great poet such as Al-Damini, for I have written nothing but a loving tribute to this noble Arab knight.. and the teacher from whom I learned and am still learning. In some of his poems, al-Dumaini takes us to beautiful watery climates similar to those of Abu Nawas, colorful poetic spaces with swarms of carrier pigeons and marble boards paved with amazing imaginative innovations and picturesque images. He invokes the beloved's watery imagination in each of his sighs, where the woman is the key to the poem, and where the water is the first of things, and the master of boldness: the water is the word he saw, when a woman pours it, the stars dissolve on her sleeves, and drips with drunk pearls, she stoops from the roots of her hair and feet, or even smiles. Places, people, and dreams, with sweet questions and revelations, and in a glowing, glowing poetic language that liberates the grievances from their language, in ways crowded with metaphors, metaphors, and hidden and rushing inner calls: by chance we meet, when the sun slows in its sleep or covers its braids, it will be on the side of the fire The hadith was delicious, like embers, either opening in a female's chest, and like a candle dancing above the ceilings. "You came down, my friend." So drink the coffee now, red, it resembles coffee only a little, and let us liberate us this evening from idle talk, until the necks of the letters soften. The night was in his sadness, then he said: I am lonely for eternity, I have never had a language that would dare to draw a kiss before him, nor a laugh that danced on the cheek of a child. I will go mad at her without a woman splitting from my longing for her, without joy in childbirth or apprehension in death.
I'm tired of standing in the dark
I am tired of keeping your secrets, the bloodlines of your ancestors, and the dust
Ali al-Dumaini, in addition to being a famous modernist poet, is a writer and reformist activist as well. He completed his undergraduate studies at King Fahd University of Petroleum and Minerals in Dhahran and obtained a degree in mechanical engineering. The experience of Ali and his brother, the poet Muhammad al-Damini, is considered one of the most important experiences of modernist poetry in the rich eighties. He has several collections of poetry, including: The Winds of Locations, The Whites of Times, and with its wings the window bells ring, the beads of time, and a novel entitled The Leading Cloud. Al-Dumaini supervised the famous "Al-Mirbad" cultural supplement in Al-Youm newspaper in the eighties. And the poem, and he has – documenting his struggle – a book entitled A Time for Prison… Times for Freedom.