Equatorial Guinea surprised Algeria and prevented it from chasing Italy in the undefeated series of African nations – (photos)

Douala-Cameroon: Equatorial Guinea blew up a big surprise and ignited the competition in the fifth group stage of the African Nations Cup, currently being held in Cameroon, after beating Algeria 1-0 on Sunday in the second round of the group.
Equatorial Guinea's tally rose to 3 points in third place in the group standings, a point behind Côte d'Ivoire (the leaders), who tied 2/2 with Sierra Leone, the second-placed team with two points earlier today in the same round, while the balance of the Algerian team stopped (title holder) at one point at the bottom of the standings.
The Algerian team appeared very disappointing, and its players seemed affected by the poor condition of the field, so that its chances of qualifying for the round of 16 and continuing the campaign to defend the title depended on meeting it in the last round of the group.
Esteban Orozco took the lead in the match after scoring Equatorial Guinea's only goal in the 70th minute.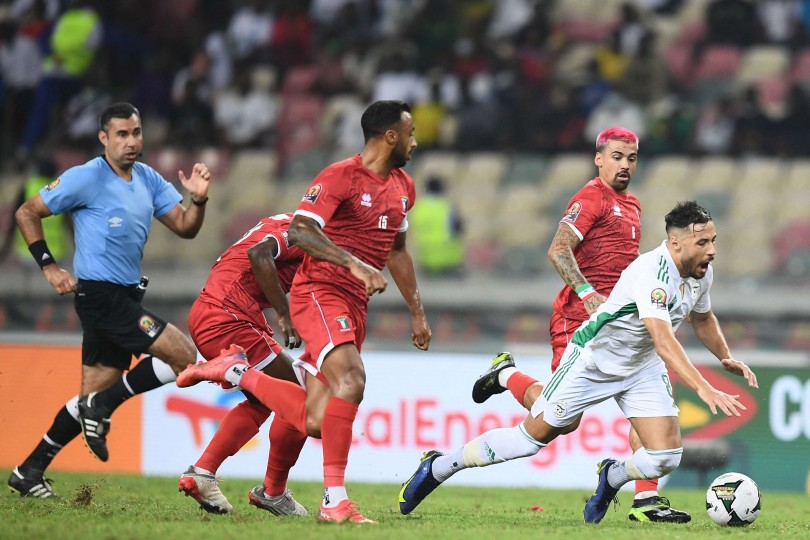 Equatorial Guinea, which won its fifth victory in 12 matches in its history in the African Nations, ended the streak of unbeaten Algeria, which maintained its record unbeaten in 35 consecutive matches in various competitions.
The Algerian team, which suffered the last loss before that match in 2018, was only two games away from equalizing the world record for the most avoided team in the world to lose in successive matches, which the European Nations Cup champion Italy has maintained until further notice.
Algeria will clash with Côte d'Ivoire next Thursday in the third (last) round of the group, while Equatorial Guinea will play its Sierra Leonean counterpart on the same day in the same round.
(dpa)
News from رياضة | القدس العربي