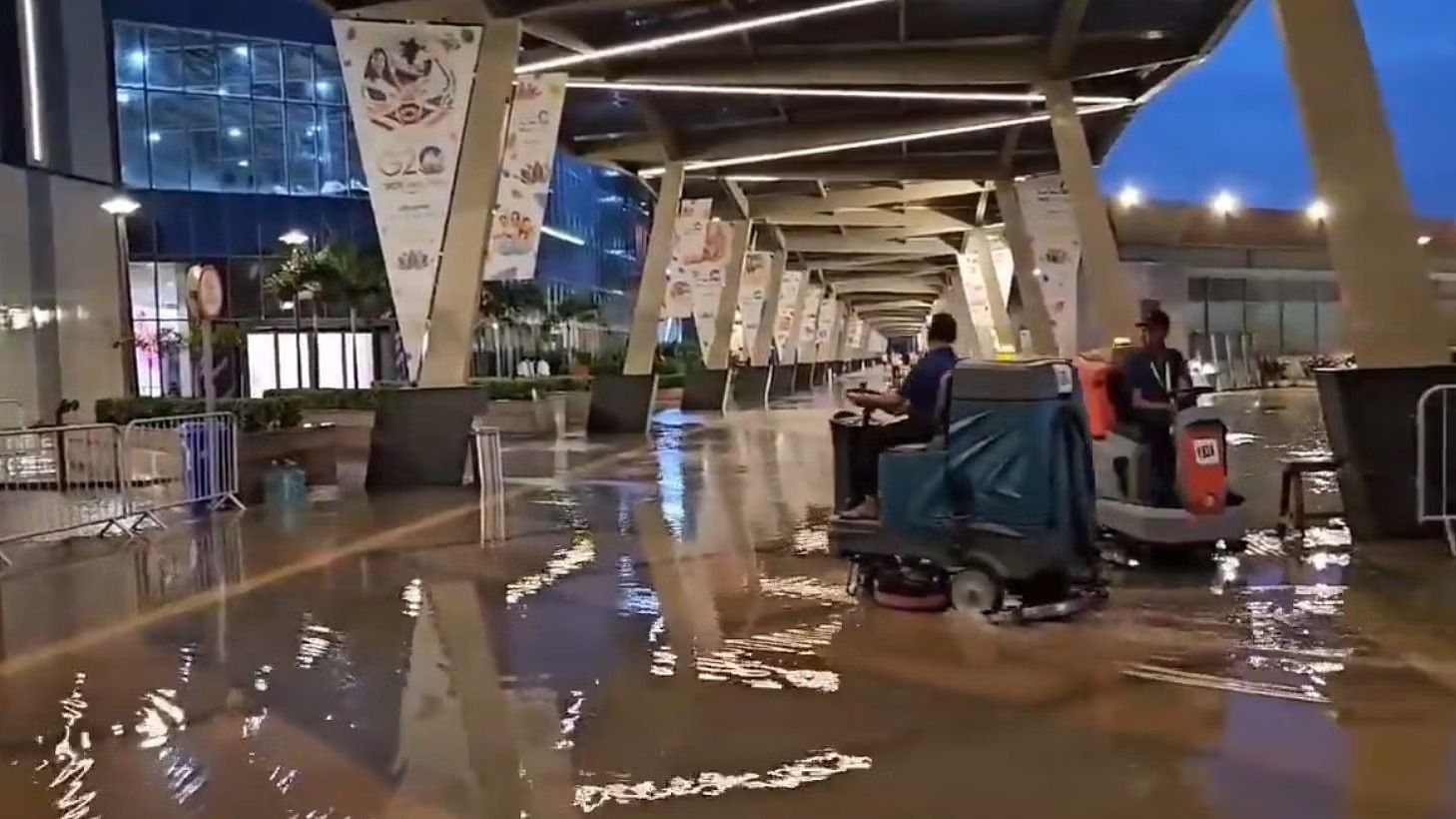 News Updates.
The Bharat Mandapam, the site of the G20 summit at Pragati Maidan in New Delhi, remained untouched by water damage on Sunday, August 10. Pictures of water logging in Bharat Mandapam went viral on social media on Sunday. Apart from the Congress and the Aam Aadmi Party, the public reacted sharply to this on social media.
A video of water logging in the main Bharat Mandapam area was shared on Twitter. Workers can be seen using machines to remove water.
Congress and AAP attack
The Congress took to Twitter to express displeasure over water degradation in the main Bharat Mandapam area. Congress said so
The hollow development has been laid bare. India Mandapam was prepared for G20. Rs 2,700 crore was invested. The water disappeared in a rain…
Congress General Secretary Priyanka Gandhi even mentioned this in her meeting in Tonk (Rajasthan). On the issue of water filling in Bharat Mandapam, Priyanka said, "Perhaps what the people of our country cannot say because of fear, God has said: Reduce your ego, this country has made you a leader, put the country first, the public Make sovereign. "
Describing this issue as serious, AAP leader and Delhi Urban Development Minister Saurabh Bhardwaj questioned Lt Governor Vinay Kumar Saxena regarding such water logging during the global event. Bhardwaj said, "This is very serious. Even after more than 50 inspections by you (LG VK Saxena), if the main area around the mandapam is submerged in water, then you have to bow your head. As a Delhi minister, my The central government does not control the sector ."
Resp @LtGovDelhi saab
This is very serious. Even after out of 50+ inspections, if the main area around the Mandapam itself is submerged in water, the heads must roll. I as a minister in Delhi do not have control over this central government area otherwise I would have helped us sir. pic.twitter.com/hn0dSBSA78

— Saurabh Bharadwaj (@Saurabh_MLAgk) September 10, 2023
PWD's response
Acknowledging water logging, the Public Works Department (PWD) said VVIP routes and areas around the G20 venue, including Rajghat, Akshardham and Ring Road, were unaffected and functioning smoothly.
When asked by the media, an official replied that "It rained all night, so water accumulated at some points and it was much less, not very big. We have emergency vehicles and personnel on the ground to deal with such situations. "Now everything is simple and clear ."
More news from the country
PIB fact check
The Press Information Bureau (PIB) of the Government of India termed the claims of water logging at the Bharat Mandapam as "exaggerated", after fact-checking that there was "minor water logging" in the Bharat Mandapam area and that the water logging was cleared "within 20 minutes". Was done.
.