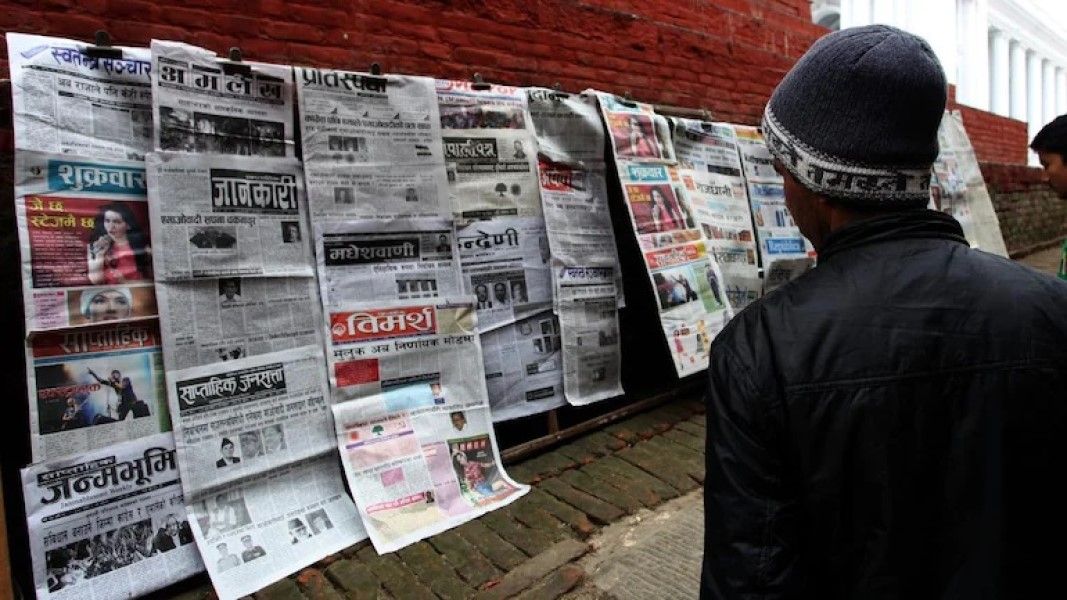 News Updates.
A few days ago I received a call from the sociologist Satish Deshpande: "I have a surprising thing to tell you. "Dainik Bhaskar" has asked me to write an article on caste census." Why would it be surprising if a renowned sociologist is asked to write a paper for his studies and research on the subject of caste? But Satish was surprised to be invited to write! I assured him that even today it sometimes happens that newspapers want to appear unbiased. Hence they also ask writers who are considered critical of the present government to write. Spoke to Satish again after two days. "'Dainik Bhaskar' refused to print the article," said he. I was not surprised to hear this. Asking Satish to write was an exception, his refusal to publish the article was natural given today's Hindi journalism.
What happened to Satish has happened or continues to happen to many other writers. The author of these lines has also had a similar experience. This phenomenon is the last 10 years. Such writers have disappeared from Hindi newspapers considered critical of the power of the day or critical of Hindutva ideology in general. The result of this is that articles by experts on various subjects are not found in Hindi newspapers. The reason for this is simple: anyone who is a serious scientist or researcher is usually a critic of this regime.
Now there are only those articles in Hindi newspapers, which are "nationalist" as defined by the power of the day. For this reason, analysis and criticism have disappeared from Hindi.
This incident with Satish reminded me of the jokes about newspapers when I was traveling in the metro a few years ago. One of them was holding "the most popular Hindi newspaper" and the others were calling him a rag. I asked why you are angry with this newspaper. He said this gives us no news, no true information, not even articles to help us understand the issues of the day. I wanted to know what they read then. He took the names of some English newspapers and magazines. The bottom line is that Hindi is neither considered the language of information nor knowledge.
Hindi Diwas will be celebrated on September 14, 3 days after the publication of this column and many institutions will start Hindi week, fortnight and month according to their devotion and budget. At that time Hindi's glory will be sung. Seminars will be held in universities on Hindi as a global language and how to create employment in Hindi will also be considered. Along with this, there will also be complaints about why Hindi has not been given its rightful place and what are the obstacles in that way.
The lack of Hindi which we have discussed at the beginning of this commentary will hardly be considered. Hindi's biggest ambition in India is to become the official language of the United Nations. Hindi has not become the language of knowledge. There is no original creation of knowledge in any field, nor is this a cause for concern. Nor is it the case that despite the existence of a Hindiwadi government, there is no visible political determination to fill this gap. It will not be decided by mere words, it will be decided by how much money the government invests.
Hindi's national aspiration is to become the official language or official language. In this it has not been able to dethrone English till now, this has filled the Hindi speaking people with both inferiority complex and violence. They cannot consider why the government of this multilingual country is spending money only on a Hindi day and if it is at the expense of other languages. Is it ethical and appropriate?
Apart from these issues there are internal issues of Hindi which we have discussed in the beginning itself. The common tendencies already present in Hindi are now becoming its nature. Hindi produced through newspapers and TV channels is not a medium of information, it often acts as a curtain for information. Not only this, it has become the language for actively spreading hatred and violence.
Along with this, it is also true that there is hardly any match between high level academic Hindi and this 'popular' Hindi. The research proposals that come to us each year do not reflect the communalism that is the nature of newspapers or the media. Whatever is missing from these proposals, their issues express mostly liberal and progressive concerns.
How to understand this huge gap between popular Hindi and academic Hindi? How will Hindi speaking people resolve this contradiction? What is true of academic Hindi can be said of Hindi literature. I often think of this in my class that after reading 'Dainik Jagran' or 'Dainik Bhaskar' in the morning, how shocked they would be when they faced the lessons of Premchand or Krishna Sobti? Should they consider their classes and lessons as honest or this 'Popular Hindi'?
More news from time to time
Along with this, I often also think that those who come to higher level Hindi classes are the school students who are initiated into Hindi whose first concern is to protect purity, nationalism and social morality. How will this conceptual and emotional gap between school and college be bridged?
.