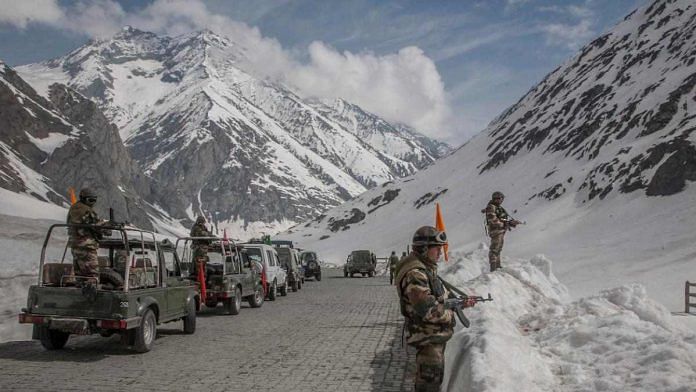 News Updates.
There has been a huge increase in infrastructure development on India's northern borders under the Narendra Modi government, particularly in the construction of roads and modernization of airports. The original plan to make the border roads at par with China's roads was done by the Congress-led UPA government in 2007 itself, but the current government that came in 2014 fixed a huge budget for it and took the actual control by expanding these roads. There was a strong conflict in the implementation of this plan to take the Line of Control (LAC). The infiltration of the Chinese army in April-May 2020 and the subsequent heavy deployment of the army made it more necessary.
It is noteworthy that the construction of roads up to the LAC without any precautionary deployment of the army made the initiative of attack by the Chinese army in April-May 2020 successful and India lost control of more than 1,000 square kilometers of land in Ladakh.
Director General of the Border Roads Organization, Lt. Gen. Rajeev Choudhary has expressed hope that India will be at par with China in terms of roads in the next three-four years. However, according to the comparative assessment of the infrastructure of both countries on the border by "India Today", we still have a long way to go. My own assessment is that as the nature of warfare increasingly relies on 'Precision Guided Munitions' (PGM) and drones, we are lagging behind in strengthening the security of permanent defense and logistics infrastructure.
---
Also Read: Chinese Scam Chinese Citizens Sitting In Cambodia, Myanmar, Thailand, This Is Another "Scam"
---
Battlefield transparency and PGM
The basic means of surveillance and reconnaissance in the form of satellites, aircraft, drones, radar, electronic jamming etc. clearly informs the army about the targets on the battlefield. These targets can be directed at PGMs or drones deployed in the air or on the ground with a 90 percent success rate. To thwart command and control, they can be blocked through electronic and cyber means. Threats can be further reduced through the use of firepower and missiles.
The war between Russia and Ukraine is a good example of what a technological battlefield is like. But the issue is relative in nature and active and indirect countermeasures can be taken against all types of threats. In such an environment, a well-rehearsed defense can gain a clear advantage over an attacker who is forced to take open action to gain ground. Unless there is a huge difference between the two sides in terms of technique, technique alone cannot guarantee the defeat of a comparatively weaker defensive side.
Good journalism matters, even more so in times of crisis.
ThePrint brings you the stories you need to read, from where they happen
We can only continue if you support us with our reporting, writing and photography.
subscribe now
In military matters, the difference between India and China is mainly about cyber and electronic warfare and the level and number of PGMs, drones, missiles, etc. Until India closes this gap, it would be better off relying on a proactive defensive strategy at the strategic level while maintaining the strategic offensive's ability to "checkmate" China.
It would be appropriate to repeat here that a decisive war between nuclear-armed countries is now impossible, but the possibility of a limited war is also much less. However, without taking a direct attack before the use of nuclear power, there may be a great opportunity to use PGMs, drones, missiles deployed in the air or on the ground, as well as electronic and cyber attacks. Currently, India's ability to retaliate in terms of numbers and scale is not equal to China's.
In such a situation, well-secured defense lines and military equipment deployed underground can greatly impede China's advance.
tunnel war
Tunnel warfare is 4,000 years old and this method is used for both attack and defense. Over the past 200 years, the advantage of speed, first by horses and later by machines or airplanes/helicopters, has made tunneling installations ineffective. A notable example of this is Germany's Blitzkrieg attacks during World War II ignoring the heavily defended Maginot Line in France.
But the defending sides have adopted the method of tunnel warfare to thwart the enemy's ability to attack air and ground fire. China has been a master of tunnel warfare and had given new life to this method during the Sino-Japanese War of 1937-45. Then he dug a 15 km long tunnel on the battlefield of Ranzhuyang Village in Hebe Province, which is now a tourist attraction, and connected the tunnels to the houses so that he could attack the Japanese soldiers from behind. Japan learned this martial art from China and used it in the desert wars of the Pacific. The battles for the islands of Pelelu and Iwo Jima, won at great cost by US Marines, are a notable example of this.
During the 1950–53 Korean War, the armies of North Korea and China built underground bases in the mountainous area to protect themselves from American air and artillery attacks. Two miles of tunnels were built every mile (1.6 km) on the front, making a total of 300 miles of tunnels built.
In Vietnam, the Vietcong guerrillas had made tunnel warfare an art form. The US Army, unaware of the Vietcong tunnels in the Cu Chi area near Saigon, had built a 1,500-hectare military base over them, where 4,500 soldiers were stationed. Black figures emerging from the tunnels annihilated a large number of soldiers. The base had to be abandoned and the US Air Force had to bomb it and then clean it up after heavy damage. Today's terrorists also use tunnels for guerrilla attacks in Afghanistan, Syria, Israel-Palestine border.
I use these examples from history to emphasize how effective mines are for defense, as they expose the potential of platinum metals, often forcing countries to take extremely destructive actions, such as Vietnam. B-52 bomber, 'Father of the Bomb', GBU-43 massive aerial bombardment in Afghanistan, for massive airstrikes against Israel. Yet underground bases are under-researched, poorly understood and often underestimated. There is an important lesson here in protecting our northern border.
the state of our defense
Our mountain defenses are able to withstand small arms and artillery attacks without PGMs, but their strength is weakened due to the reverse slope of the defense. The defenses on the upper peaks can withstand conventional fire and the defending side has an advantage over the attacker, who is in the open and must climb and attack in oxygen-poor areas.
This shape of the thumb-like defense line that stands on top of the mountain has remained the same for almost a century. Such a line of defense can collapse in the face of air or ground attack PGMs including drones. Typical close combat is a thing of the past. By staying away from "close combat" in hostile PLA areas, the Chinese army can defeat the "advanced defense" on high peaks. If it decides to use force to conquer land, it will do so using modern technology with heavy recourse to PGMs, cyber and electronic warfare. The romanticized form of blood-soaked melee is a thing of the past in the last century. A punitive method of destruction of military posts and logistics that does not involve close combat may be chosen. Open logistics systems are proving to be easy targets for PGM.
It will take a long time to match the PLA's cyber and electronic warfare skills and the level and number of offensive and defensive assets such as PGMs, drones, missiles because our defense budget is not the same and is not expected to increase anytime soon. Tunnel warfare can be a temporary solution to break the stalemate and prevent physical attacks and attacks.
the road ahead
Recent reports suggest that PLA is probably building underground bases in front of DBO sector, 60-70 km from LAC, for logistics, communication centers, nuclear weapons, HQ command posts etc. I sincerely hope Indian Army has learned the right lesson – to adopt tunnel warfare to build a permanent defense line with permanent defenses, logistics, communication centers, command posts and air bases, etc.
My assessment is that despite speculation, the Indian Army has not formally adopted tunnel warfare as a strategic concept. High areas are suitable for tunnel warfare. The army should study in detail the possibilities of tunnel warfare for our permanent defense in the hilly areas. Army engineers should study models such as the defense line built along the 38th parallel in South Korea, and adopt them as models for survival and high-altitude warfare. Likewise, bases related to logistics should also be built underground, in their current state they will not be able to last more than a 24-48 hour war.
The art of tunnel warfare has been used successfully to overcome differences in resources and technology, and I see no doubt why the Indian Army cannot do the same.
(Lt Gen HS Panag PVSM, AVSM(R) served in the Indian Army for 40 years. He was the GOC of Northern Command and Central Command. After retirement, he has also been a member of the Norwegian Armed Forces' board.)
(Click here to read the article in English)
---
Also Read: India's strategic depth from Pakistan to China borders is not of much value
---
.