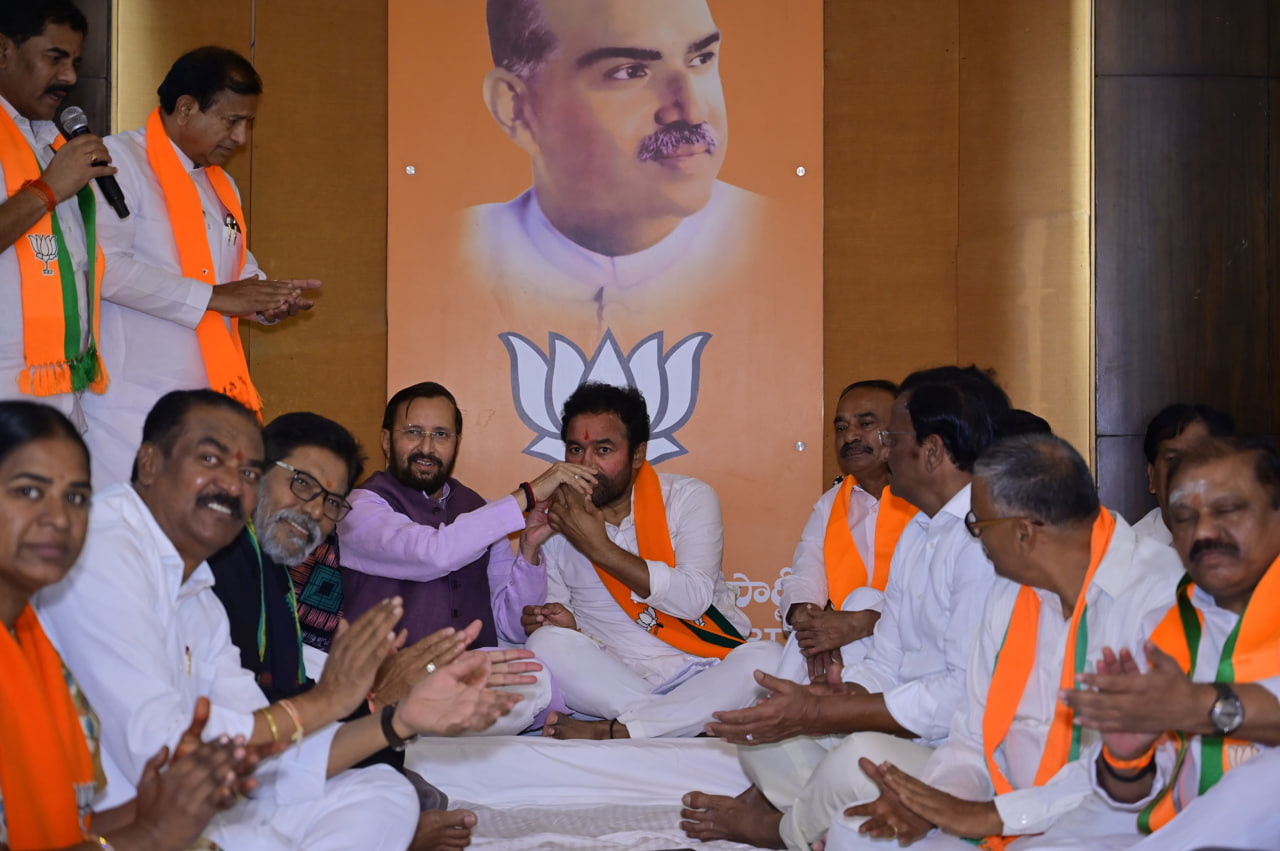 News Updates.
Telangana BJP's 24-hour initiation ends
Hyderabad. Central Tourism and Culture and Telangana Pradesh Bharatiya Janata Party (BJP) president G Kishan Reddy on Thursday protested the Bharat Rashtra Samithi (BRS) government's alleged failures to address employment issues at the party's state headquarters here on Thursday. The initiation of the hour was cancelled.
Senior BJP leader and former union minister Prakash Javadekar served lemon juice to Reddy at the end of the inauguration. Speaking on the occasion, Javadekar appreciated the efforts shown by Reddy and BJP workers. He said we have already shown the strength of BJP to KCR on many occasions. There are many more shows coming up to challenge the Kalvakuntla family. Javadekar said that if Kishan Reddy can protest peacefully, then what is the problem for the KCR government? KCR seemed worried, that's why he has resorted to disrupting the protest by sending police. They know that they have disappointed the youth of Telangana and that is why they are afraid. The youth should remove KCR, and Telangana should move forward. There is still much to do. We have one hundred days to continue the movement. Emphasized on exposing KCR's corruption and irregularities. Reddy said BJP is working tirelessly for various public issues, but KCR is trying to suppress our efforts with the help of police. He asked that when we peacefully started a 24-hour hunger strike in Dharna Chowk, what was your (KCR) objection? Are we protesting in your farmhouse? Why don't you keep your promises after nine years?
He said "There are vacancies in Telangana Public Service Commission too. If 17 exams were conducted, all were spoiled due to leaks. Today, under the leadership of Prime Minister Narendra Modi, we are issuing 80 thousand appointment letters per month as per the strict timelines." Every month I personally hand out meeting letters to three thousand to four thousand people."
Reddy said, "Telangana does not belong to KCR alone. It belongs to four million people. We don't need your certificates; We have the people's blessings. Workers and common citizens are our guides. Owaisi is the patron of BRS and Congress parties. When we come to power, we release the job calendar and ensures that all vacancies are filled.
.