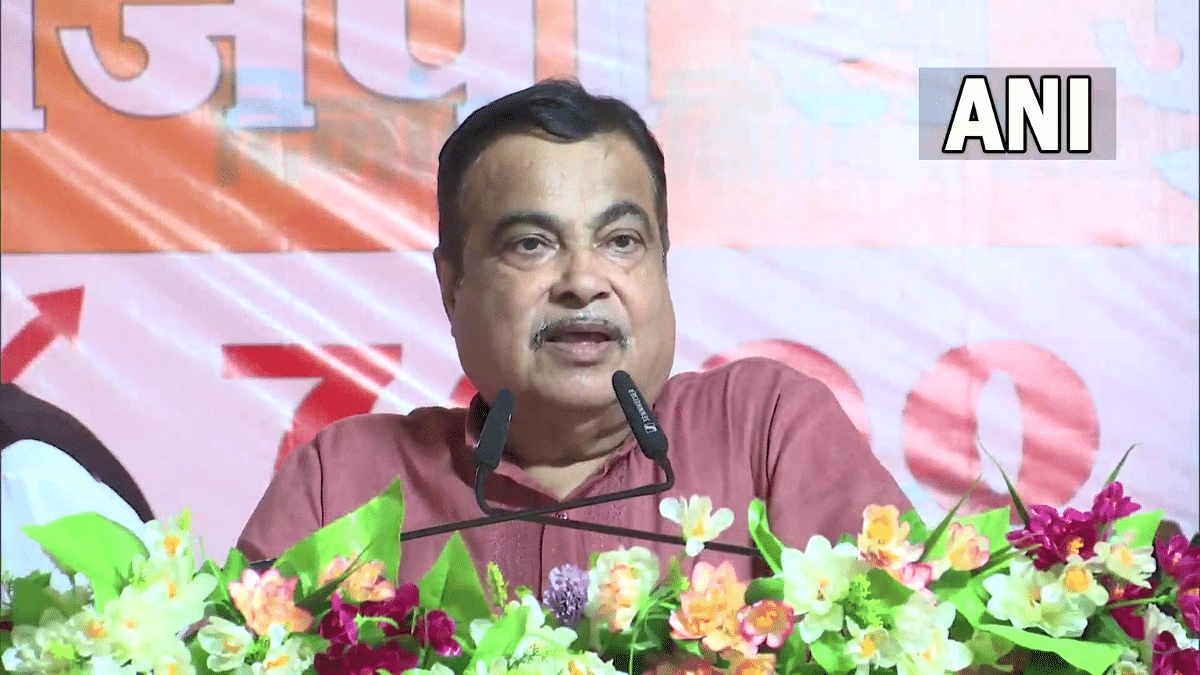 News Updates.
Khandwa: Madhya Pradesh is continuously developing. It has become a developed growth engine of the state of Bimaru. Madhya Pradesh has now become the powerhouse of development. The credit for this goes to our popular Chief Minister Shivraj Singh Chauhan. These comments were expressed by Nitin Gadkari, Minister of Road Transport and Highways in the Government of India. Gadkari had reached Khandwa on Wednesday, where he flagged off the fifth Jan Ashirwad Yatra taken out by the BJP in the presence of Chief Minister Shivraj Singh Chouhan and many public representatives. Addressing Chief Minister Shivraj Singh Chouhan, Minister Gadkari said that the developments that have happened so far in Madhya Pradesh were a trailer, the real movie is yet to begin. He said that in the history of the country, Madhya Pradesh has been number one in agriculture sector seven times in the last 7 years. This is the result of Shivraj ji's leadership. Gadkari said that the area under irrigation has increased in the state, production has increased, due to which the villages have become rich and prosperous. Work for every hand, water for every field, keeping this in mind, Shivraj ji increased the area under irrigation, increased the growth rate of agriculture, increased agricultural production and achieved number one in the country.
Gadkari promised from the stage
Union Minister Nitin Gadkari said that work from Khandwa bypass from Deshgaon to Sudhi will start from October. Feasibility report from Sudhi to Tular Phata has been ordered. Will seriously consider after meeting them.
Fuel will be produced from crop residues
Gadkari said that cars run on ethanol produced from farmers' crop residues, maize, sorghum etc., scooters have also started running on bio-ethanol, now the farmer will become a food supplier as well as an energy supplier. Madhya Pradesh: In the coming times, Madhya Pradesh will be the largest state in India to produce green hydrogens.
Indore-Hyderabad highway is being built with 18 thousand crores
Union Minister Gadkari said that a highway is being built from Indore to Hyderabad at a cost of Rs 18 thousand crore, it will connect the districts of Indore, Khandwa, Khargone etc., it will also be easy to reach Omkareshwar.
Chief Minister Shivraj Singh Chouhan targeted former Chief Minister Kamal Nath
Addressing the gathering, Chief Minister Shivraj Singh Chouhan lashed out at the previous Congress government and Chief Minister Kamal Nath. CM said we are not Kamal Nath who will tell about the plight of money, there is no money, there is no money, I am saying we have no shortage of money. Congress did not provide electricity or water or roads, but our government has built excellent roads not only in Madhya Pradesh but throughout the country and has supplied water to the fields. The Chief Minister said, had the Congress ever provided a medical college? Had the Congress done as much developmental work as the BJP has done? Didn't do anything, they say, we do it.
Good journalism matters, even more so in times of crisis
ThePrint brings you the must-read stories, from where they happen
We can only do this if you support us with our reporting, writing and images.
subscribe now
the survey will start soon
The Chief Minister said that Prime Minister Narendra Modi is giving free bits to millions of poor. No one will remain without a home in rural Madhya Pradesh, the Chief Minister has come up with Bhu Adhikar Awasiya Yojana, all the poor will get land rent, they will get houses. For those who have survived, Chief Minister starts Jan Awas Yojana, under this everyone will get houses, a survey will be conducted before the code of conduct.
The entire MP government is with the farmers along with Modi ji.
The chief minister said that god forbid the crop gets destroyed, if the disaster happens don't be afraid, Shivraj government will take you out of the crisis, there was a crisis on the track in Burhanpur, an amount of Rs 2 lakh per hectare was given to the farmers, farmers are worried. Don't do that, with Modi ji's blessings you will come out of every crisis.
Will lay the foundation for two irrigation projects
The Chief Minister said that before implementing the code of conduct, he will do the bhoomi puja for the Rs 1358 crore Jhirnya irrigation project Rs 73 lakh and the Rs 3517 crore irrigation project near Khalwa.
The Congress government was fraudulent
Chief Minister Shivraj Singh Chouhan said Congress government was fraudulent, did not keep even a single promise, they had closed all public welfare schemes, be careful of those who closed the schemes, they are very elusive, will give many guarantees, this will harm Sanatan Dharma . They will talk about ending it, stay away from them.
---
Also Read: PM Modi said – Nataraja statue brings alive aspects of our rich history and culture.
.