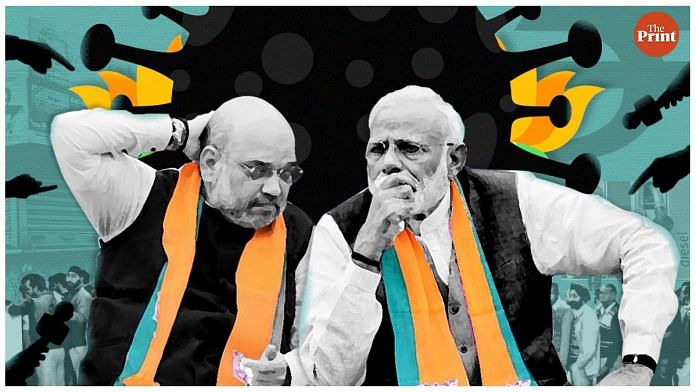 News Updates.
Prime Minister Narendra Modi should be on top of the world after the successful G20 summit. And they deserve it too. Bharatiya Janata Party leaders are equally happy. However, they should be a little wise. Whatever the Prime Minister needed to do for the country, he did it very well. But he did not do what he should have done for the party. Although Modi will be a bit disappointed. This is not just about the recent results of the by-elections held in seven assembly seats in six states, which were a little disappointing except for Tripura. The results of the by-election were not a reflection of his governance. The by-elections themselves were insignificant given the existing power equations on the ground. What will bother PM Modi is that these results were the latest of many indicators that his party was lagging behind in many states.
The prime minister will worry that reports from various states — allegations of corruption and infighting and incidents of moral decay within the BJP — tarnish the party's image.
In June 2021, I wrote an article titled Breakdown in command and control of UP, MP, Goa, Uttarakhand-BJP. This was about the rapid split in the BJP in many states. A lot has happened in Indian politics since then. But for the BJP, despite victories in key states like Uttar Pradesh and Gujarat, not much has changed – there is still an over-reliance on Prime Minister Modi and the opposition has offered no alternative. But much has changed or is changing within the BJP. Factionalism and conflicts have become more intense. Accusations of corruption and moral turpitude become a recurring feature. The crab mentality is becoming increasingly clear. We will discuss the how and why of this later.
By-elections send a strong message to the BJP
Let's look at the results of the assembly's by-election. It was a big achievement for the BJP in Tripura where it retained one seat and took one seat from the Left and won the Muslim-dominated Boxanagar seat for the first time. The BJP's rivals can offer several excuses: large-scale rigging, indifference by the Communist Party of India (Marxist) and its candidate, and, 12 days before the by-election, by Bilal Mian, a former Congress minister and two-time MLA from Boxanagar.Rebellion. His move to the BJP ahead of the by-election and support for its candidate Tafazzal Hussain, another ex-Congress leader. However, the truth is also that the BJP got 88 percent of the votes in the constituency, which has an estimated 66 percent Muslim population. This is a big thing for the BJP, although it was not celebrated enough.
BJP national president JP Nadda immediately congratulated Tripura Chief Minister Manik Saha and other party leaders. Nadda has Tweet "This result shows the people's acceptance of the development work being done by our twin engine government under the leadership of Hon'ble Prime Minister Shri @narendramodi ji"
Good journalism matters, even more so in times of crisis.
ThePrint brings you the stories you need to read, from where they happen
We can only continue if you support us with our reporting, writing and photography.
subscribe now
However, Uttar Pradesh Chief Minister Yogi Adityanath will not be happy with his party president's message. If the Tripura results reflected "people's acceptance of twin-engine governance", did the defeat in UP's Ghosi bypoll reflect the opposite? And also the margin of victory narrowed in Bageshwar, Uttarakhand?
This is undoubtedly a shocking defeat in Ghosi. But can you blame Adityanath for this? BJP insiders say he was against Dara Singh Chauhan's return to the party. Chauhan had resigned from the ministerial post ahead of the 2022 assembly elections, accusing the Yogi government of being anti-Dalit and Other Backward Class (OBC) and quit the BJP. After this Chauhan won from Ghosi on Samajwadi Party (SP) ticket. He wanted to return to the BJP and the Yogi cabinet. Although Yogi did not want it as his deputy, Deputy Chief Minister Brajesh Pathak and state BJP chief Bhupendra Chaudhary – who is close to the Union Home Minister – worked to bring Chouhan back to the party. Chauhan's BSP-SP-BSP-BJP-SP-BJP journey has been remarkable in terms of switching loyalties. Hence, people were not surprised when he lost the by-election after returning to the BJP. While CM Adityanath was against Chauhan's return, he still campaigned for him. Couldn't have done anything more wow than this. It was not the first time that the high command's attempts to rein in Yogi or impose politicians and bureaucrats on him backfired. If one starts citing examples, there would be thousands of words to say. This story will be told another day.
The results of the Ghosi by-election have raised some worrying questions about the BJP's strategy. The BJP was expected to benefit from former CM Mayawati's declining relevance. In 2022, the BSP fielded a Muslim in Ghosi, who got over 54,000 votes and 21 percent vote share. In this by-election, BSP asked its supporters to vote for NOTA. NOTA received 1,725 ​​votes. In 2022, NOTA received 1,249 votes. This means BSP could only add 476 votes. So, where did the party's votes – mainly Muslims and Dalits – go? The BJP's vote share in Ghosi increased by 4 percent – from 33 percent in 2022 to 37 percent this year – while the SP's vote share increased by 15 percent during the period. It seems that Mayawati's voters have completely switched over to Akhilesh Yadav's party. The slight increase in BJP's vote share can be attributed to Suheldev Bharatiya Samaj Party (SBSP), which was with SP 2022, now becoming BJP's partner.
There is a significant population of Rajbhars in Ghosi, who are influenced by the SBSP. The SP had fielded Rajput leader Sudhakar Singh. If this erodes the BJP's grip on the 'upper' caste vote bank, the ruling party has more to worry about. Yogi's opposition to Chauhan's return to the BJP proved correct.
The BJP retained the Bageshwar seat in neighboring Uttarakhand, but its margin of victory fell from over 12,000 votes in 2022 to 2,405 votes in 2023. The BJP suffered its biggest loss in Dhupguri, the party's eighth straight West Bengal by-election defeat since the 2021 assembly elections.
In the Puthuppalli assembly by-election in Kerala, the BJP tried to electorally test its Christian outreach initiative. Ultimately, it faced defeat, polling just 6,558 votes – more than 5,000 votes short of the 2021 election. Ahead of the election, the BJP made Congress leader AK Antony's son, Anil, its national spokesperson and fielded Union ministers Rajeev Chandrashekhar and V Muraleedharan for massive campaign. Despite allegations of corruption and mismanagement against the Hemant Soren government, the Jharkhand Mukti Morcha increased its vote share by 14 percentage points, while the vote share of BJP ally All Jharkhand Students Union declined by 23 percentage points after the 2019 assembly elections.
---
Also Read: Rajiv Gandhi cleaned the wounds given to Indian democracy, he should get more credit
---
PM Modi's concern over BJP
These by-elections themselves will not worry PM Modi as the 2024 Lok Sabha elections will be a different ball game altogether. Then people will vote for him. But involving the faltering party organization and the state leaders in various controversies will not help Modi in his cause. Take his home state of Gujarat for example. Prime Minister Modi has single-handedly made the party win. And look what his party colleagues are doing. A 'Parcha' scam has surfaced in CM Bhupendra Patel's office, resulting in the transfer of Joint Secretary, Parimal Shah.
He is the fifth CMO officer to be transferred for dubious reasons in recent months. The other four officials included Patel's personal assistant, a special officer and another Public Relations Officer (PRO). Gujarat BJP general secretary and close aide of state BJP president CR Patil, Pradeep Singh Vaghela, resigned earlier this month. He was one of the named characters in the so-called pamphlet scam involving dubious land deals. Of course, he has denied any involvement.
The shadow of suicide and fraud looms over the BJP in Assam. 44-year-old BJP Kisan Morcha general secretary Indrani Tehbildar was suspected to have died by suicide last month. This has been alleged to have been linked to the money-for-job scam.
Days before his death, intimate photographs of Tehbildar had surfaced on social media, along with audio clips of his conversation with a BJP functionary. A BJP leader from Jorhat was suspected to have circulated these pictures. Five people associated with the BJP have been arrested in connection with his alleged suicide and the cash-for-job scam.
The situation has turned worse for CM Himanta Biswa Sarma, voices of discontent are emerging against him. Ashok Sarma, a former BJP MLA, recently said publicly that the party is being "damaged by a newcomer" who came in 2015 and is driving away the old – Himanta Sarma joined the BJP the same year. Former union minister Rajen Gohain resigned from the post of chairman of Assam Food and Civil Supplies Corporation in August 2023 and attacked CM Sarma over delimitation in his Nagaon constituency. He also accused a minister in the Sarma government of assaulting him.
In Meghalaya, former MLA HM Shangpliang resigned from the BJP, accusing state unit chief Ernest Mowry of promoting nepotism. Alexander Lalu Hek, the only BJP minister in the Conrad Sangma government, has also accused Mowry of taking unilateral decisions.
Former Maharashtra BJP MP Kirit Somaiya came under attack from the opposition in July 2023 when a controversial video clip surfaced, although the matter is still under investigation.
And there is still curiosity in Maharashtra about the attempt to blackmail Deputy CM Devendra Fadnavi's wife Amrita by her fashion designer friend, Aniksha Jaisinghani, daughter of a bookie. Aniksha is now out for bail.
Many secrets are coming out from the BJP government in one state after another. This is when no one even talks about the hot cold war of the BJP high command with public leaders in states like Rajasthan, Madhya Pradesh, Chhattisgarh and Karnataka. Many BJP leaders are also showing unusual arrogance – Haryana Chief Minister Manohar Lal Khattar recently made fun of a woman in public. The woman had asked him to open a factory in his area so that people could get employment. The CM told him in his public dialogue programme, "Next time when Chandrayaan-4 will go to the moon, [मैं] Sending you there."
PM Modi's popularity rating has always been high. This may increase even more now that the G20 summit has been so successful. But when he's on top of the world, this is something to celebrate. But the state of BJP spoils this celebration. Congress or INDIA does not bother PM Modi. Their problem is BJP.
(Translation: Pooja Mehrotra)
DK Singh is the political editor at ThePrint. Opinions are personal.
(Click here to read the article in English)
---
Also Read: '2 + 2 = 4 doesn't happen in politics', Gadkari said – UPA has gone bankrupt, he's opening a new shop in INDIA
---
.