News Details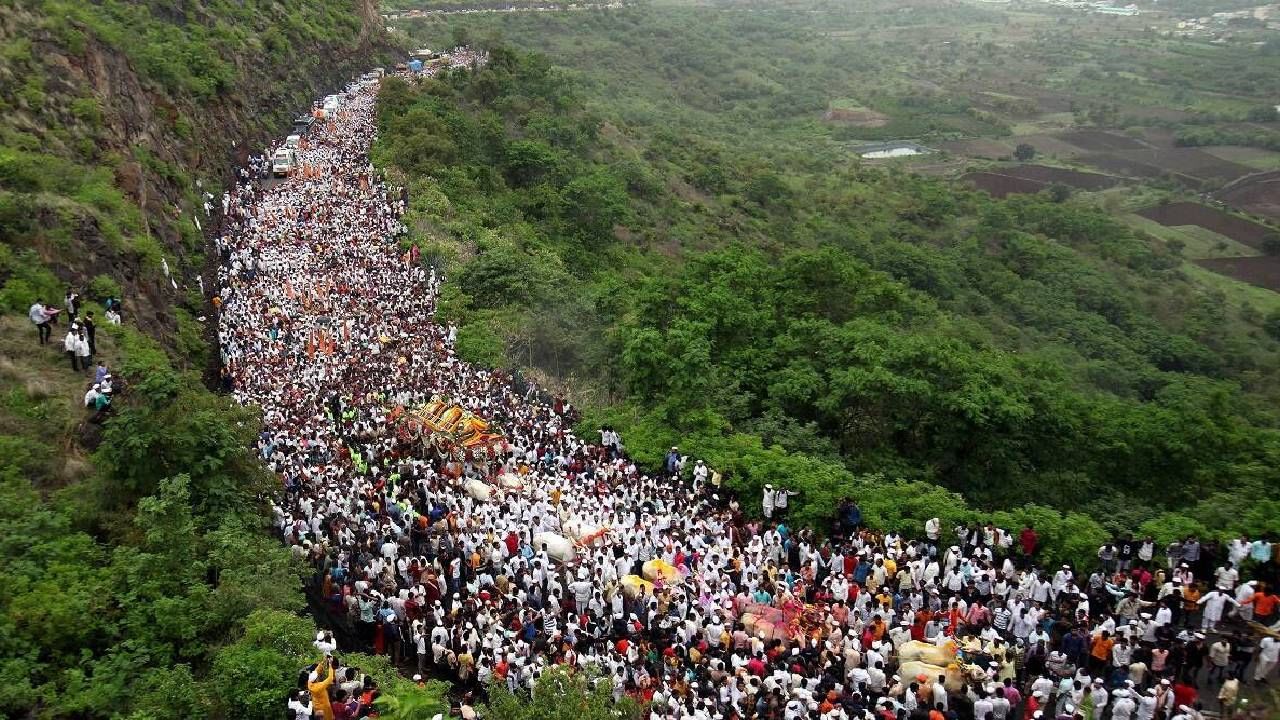 After a gap of two years, the footsteps of the Warkaris have started falling towards Pandharpur (Pandharpur Wari 2022). Vitthal's shouts are loud and the devotees' feet are trembling at the beat of the rhythm mridung. Some are wearing balloons and some are playing games. All the devotees of Vari are now getting attracted towards Vithuraya's darshan. About four lakh devotees had reached Alandi in the palanquin ceremony of Sant Dnyaneshwar Maharaj. […]
After a gap of two years, the Warkaris set foot in Pandhari (Pandharpur Wari 2022)have started falling. Vitthal's shouts are loud and the devotees' feet are trembling at the beat of the rhythm mridung. Some are wearing balloons and some are playing games. All the devotees of Vari are now getting attracted towards Vithuraya's darshan. About four lakh devotees had reached Alandi in the palanquin ceremony of Sant Dnyaneshwar Maharaj. On 21st, Dnyaneshwar Mouli's palanquin left for Pandharpur. The bell rang, Kakad Aarti and Abhishek took place at 4 in the morning before the departure of the palanquin. After that Kirtan was organized in Veena Mandap from 9 to 11 am. In the afternoon, the aarti of Mauli's samadhi was performed. Coconuts and prasad were distributed to prominent dignitaries and brought to Mauli's Paduka Mandap. After that Molly's palanquin left in a very devotional atmosphere. As per tradition, the first stop of the ceremony was in Gandhiwada.
On their way out of Pune, everyone from children to elders was chanting 'Znanoba Mauli Tukaram' with equal enthusiasm. After a long wait, the city again felt the same energy and vibrancy. Everyone was absorbed in the devotion of Vithuraya on the mridunga with various abhangas sung by the Varkaris.
The joy and devotion doubled with the meeting of two palanquins on the Dingya Sangamwadi bridge. Eager locals gathered on both sides of the road as the palanquin passed. Some organizations had arranged free health check-up for the devotees and many had distributed biscuits and water bottles to boost the energy of the palanquin. After this he stayed in Pune on 22nd and 23rd. today 24 tomorrow tomorrow 25 june Saswadi The palanquin will stay here. The villagers of Saswad are eagerly waiting for the palanquin. During this function, preparations have been completed for the health service, water supply, electricity facility and cleanliness of the Municipal Corporation. Saswad Municipality has deputed 20 vehicles and 150 employees for garbage collection in and around Saswad city during Palkhi period. The cleaning of the sedan, the electric lights on the poles, the lighting near the tent of the palanquin are arranged by the generator.
There are eight high mast facilities and eight CCTV cameras. Separate queues have been arranged for the devotees for men and women. A total of 32 seater toilets and 16 seater toilets for men and women have been constructed in Palkitala. Also, since this is insufficient, a temporary fiber-optic 150-seat toilet for men and women has been installed in the space adjacent to the sedan. Temporary construction of hostel, necessary water connection has been taken.
,