Party and people appreciated my hard work: Singla ⋆ D5 News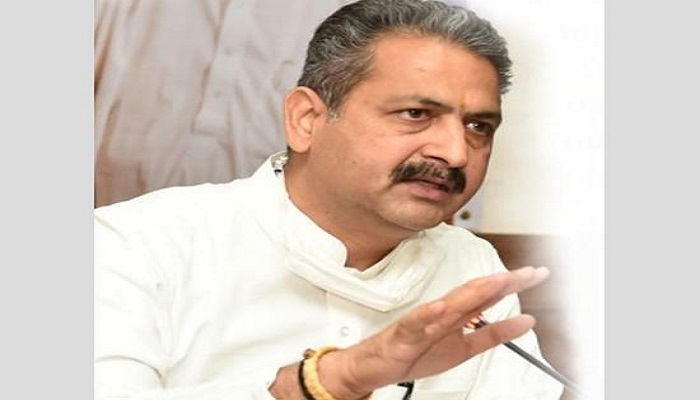 Sangrur: "First as a MLA and then as a Minister I worked day and night for the people of Punjab in my constituency and worked tirelessly for the betterment of the education sector in Punjab. Came to the place. Made all government schools in the state smart schools. At the same time, the level at which the state's roads have been transformed is perhaps the first time in history. Respecting all this hard work and the sentiments of the people, the party has given me the responsibility to take over the morcha from Sangrur constituency again and I sincerely hope that this morcha will be won at all costs due to the love of the people. "
This was stated by Cabinet Minister Vijay Inder Singla while interacting with media here after the party declared him a candidate from Sangrur. Mr. Singla said, "I walked for the service of the people and did not leave the truth while walking on this path. The development work done by the BJP is being discussed not only in the constituency but in the whole of Punjab and people have to cast their votes in person seeing the development. So I don't have to make any claims nor do I need to make any lara like other parties. The people themselves will hand over the service of the constituency to the Congress party by getting maximum votes. " Mr. Mr. Singla said that Punjab government despite limited resources has paved the way for progress of the state and the state has set an example in terms of progress.
While the development work in the villages is constantly being completed, it is also on a war footing, which will be completed soon. The Punjab Government also took historic decisions for the welfare of the people. The government has increased pensions, waived electricity bills up to 02 kW meters, waived water bills, made electricity cheaper, made oil cheaper, waived farmers' loans, waived landless farmers and many other historic decisions. Done The government has provided Rs. He gave grants for the development of villages without any discrimination and today the face of villages in the constituency has changed. Mr. Singla said that only good people can be represented so that good society can be created and the country can progress.
Post Disclaimer
Opinion/facts in this article are author's own and punjabi.newsd5.in does not assume any responsibility or liability for the same.If You Have Problem With This Article Plz Contact Our Team At Contact Us Page.