News Details
Mumbai
Actress Prajakta Mali's web series 'Ranbazar' has recently aired on Planet Marathi. Based on the Maharashtra political crisis, this series depicts various incidents related to it. The story of this series is that politics can reach any level. Meanwhile, actress Prajakta Mali has shared some episodes of this web series in her Insta story. He has also shared some sentences in it, which are similar to today's political situation in Maharashtra.
Read this: 'Don't go back, got it..', actor's advice after Eknath Shinde's rebellion
The video posted by Prajakta on Instagram Story begins with a dialogue by Makarand Anaspure. In this he says, 'Ordinary people no longer trust politicians. People have become accustomed to false promises and outrageous alliances. Party loyalty, party principles have all become bookish. Makrand Anaspure's further dialogue is, "Whatever the color of the party's flag, the color of power is important."
After this video comes the voice of a news reporter. His words are, 'Unprecedented turmoil in the politics of Maharashtra. After 42 MLAs including Yusuf Patel and Nisha Jain withdrew their support, the government in Maharashtra fell in just one and a half days.
Also read- Actor ready to shoot for Indradhanush, 'Dharamveer' star Prasad Okla
Actress Prajakta Mali shared the video in her Insta story-
VIDEO: 'Whatever the color of the party's flag…', what says Prajakta Mali?
Through this video, he has also shared some sentences like 'Unprecedented turmoil in Maharashtra politics', 'Government is in crisis', 'Big market is on'.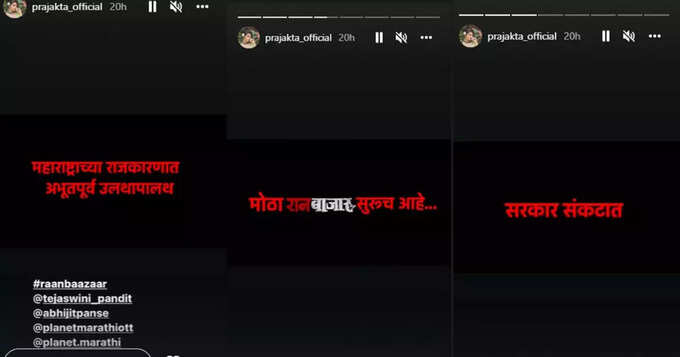 Prajakta Mali has shared this video at a time when politics in the state is going through a period of great upheaval. At present, Shiv Sena leader Eknath Shinde has rebelled in Maharashtra and has about 40 MLAs with him in Guwahati. Meanwhile, Shiv Sena has also become aggressive against Shinde in the state. Shiv Sena has warned of strict action against the rebels. He said on Twitter that Shiv Sena MLA Bharat Gogavale has been appointed as the Chief Representative of Shiv Sena Legislature.
Read this- 'Today my house is broken, tomorrow will break your pride', Kangana's statement after threatening the government
Meetings are also being held at the Chief Minister's Varsha bungalow. An important meeting of the party will be held here on Wednesday evening at five o'clock. The rebel MLAs of Shiv Sena were present in this meeting. Shiv Sena has taken a stand or else action will be taken against them.
,