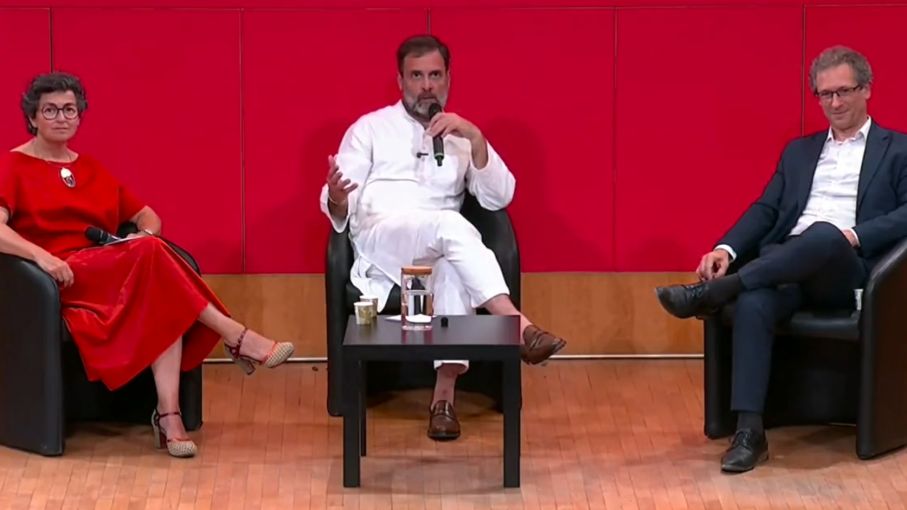 News Updates.
Rahul Gandhi, who is on European tour, had earlier accused BJP of attacking democratic institutions, now he has attacked BJP's Hindutva and "Hindu nationalism". Attacking BJP on both these ideological grounds, the Congress leader has said that BJP and RSS have nothing to do with Hindu religion and there is nothing Hindu in what BJP is doing.
Rahul said, 'I have read Geeta, many Upanishads and many Hindu books… What it (BJP) is doing has nothing to do with Hinduism. I have never read anywhere in any Hindu book or heard from any learned Hindu person that one should terrorize or harm those weaker than oneself. They have nothing to do with Hinduism. They want power at any cost. They want to be dominated by a few people.
Rahul's comments came when a question was asked about the "frightening radicalization of youth by Hindutva forces".
Rahul Gandhi interacted with students of Sciences Po University in Paris, capital of France. He attacked the government for suppressing the voice of opposition leaders in the country. He accused the BJP of gaining power at any cost.
Along with this he said that I will do everything to ensure that the caste structure and social structure of my country is not threatened.
This is not the first time he has attacked the BJP on this subject. In 2021 he called them fake Hindus who use religion for their own gain.
Let us tell you that Rahul Gandhi had said in a program two years ago, 'After all, what is the difference between Hinduism and Hindutva, are they the same thing? If they are the same thing, why don't we use the same name for them? They are obviously two different things. Is it Hindu religion to kill any Sikh or Muslim, but this is the work of Hindutva.
He questioned the BJP's patriotism by linking Prime Minister Modi's silence in the wake of the fire in Manipur and the failure of the BJP's twin-engine government with treason against India. Accusing the Modi government of "murdering Mother India", he raised questions about the BJP's "nationalism".
Rahul Gandhi also said on Friday that he discussed various challenges facing India, including the attack on democratic institutions in the country, with members of the European Parliament. The Congress leader said he was extremely concerned as he felt this was an attempt to suppress India's democratic fabric.
Political observers believe that Rahul Gandhi is continuously raising these issues and in the 2024 elections, the Congress may intensify attacks on BJP's core issues of Hindutva and nationalism. These are the two big issues BJP is using in the elections. So will these attacks by Rahul Gandhi affect BJP's health?
.