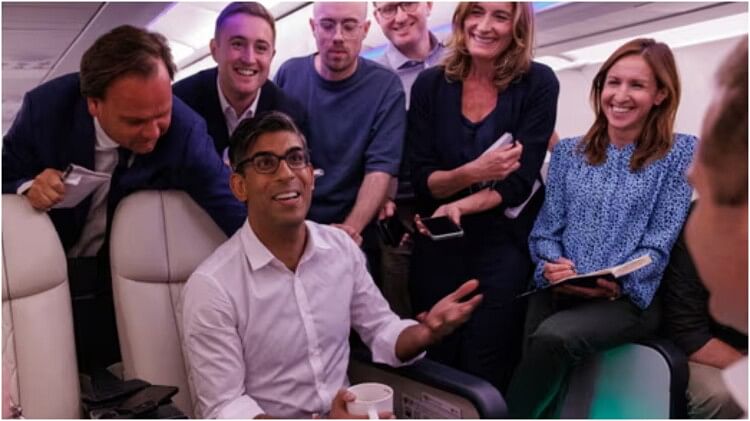 News Updates.
rishi sunak
– Photo: social media
Expansion
British Prime Minister Rishi Sunak jokingly said that it is indeed special to attend the summit of the G-20 leaders as India's son-in-law. Let us tell you, Sunak is married to Akshata Murthy, daughter of Infosys co-founder Narayana Murthy.
The gathering of foreign leaders will take two days
It is noteworthy that India presides over the G-20 countries this year. In such a situation, leaders of many countries, including US President Joe Biden, will gather in Delhi for the G-20 summit to be held on September 9 and 10. The 43-year-old British Indian leader Sunak reached Delhi with his wife on Friday to be a part of this conference.
close to my heart
He told the journalists traveling with him that he was excited to go to India. He said it is a country that is very close to my heart. But for a few years I haven't been able to go back. He said that he used to go to India with his family in February every year, but after becoming Chancellor in 2020, he could not go due to lack of time.
He further said that I saw somewhere that my name is India's son-in-law. I hope it was said with love. He said I am happy to come back to India. It's good to have Akshata with me too.
discuss these issues
While on a three-day tour, Sunak had tweeted that I would go to the G-20 summit with clear questions. These include stabilizing the global economy, building international relations and supporting the most vulnerable.
Putin is hiding his face again
Let us tell you that the war between Russia and Ukraine has been marked as an important topic on the UK agenda during the summit. When Russian President Vladimir Putin did not attend the G-20 event, he said he once again hid his face. He is different from everyone. He said that at the same time, the rest of the G-20 members will unite to oppose Putin.
increase global support
A spokesman for Sunak said Britain would use every opportunity to show its support for Ukraine and to drum up global support. He said India, as the world's largest democracy, has an important role to play in stopping Russia's attack on human rights and indeed democracy. We will hold meetings with Modi and other countries to use this influence to end Putin's aggression.
.