Sara Khan's bridal photo shoot goes viral on social media
Pakistani actress Sara Khan's new bridal shoot has gone viral on social media.
Sara Khan has posted a photo on Instagram Story, a photo, video sharing application.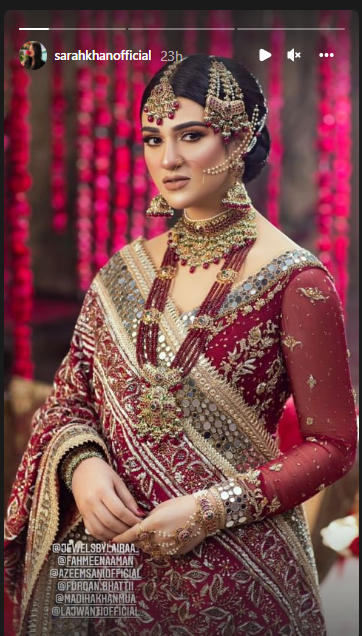 In the pictures, it was seen that actress Sara Khan is looking very beautiful in a red wedding dress.
While her jewelery is adding to the beauty and bridal look of the actress.
Her bridal shoot is being much loved by the fans of the actress.
Earlier, a short video of Sara Khan's bridal shoot went viral on social media.
On the other hand, actress Sara Khan keeps sharing her beautiful photos with her fans, on which thousands of likes and compliments come from her fans in minutes.
It is to be noted that recently actress Sara Khan has told about the news of arrival of a new guest in her family very soon.