Shah Mehmood Qureshi leaves for Belgium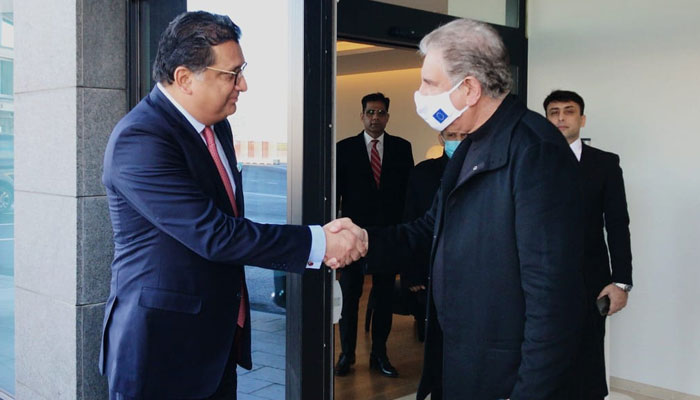 Pakistani Foreign Minister Makhdoom Shah Mehmood Qureshi returned home after completing his visit to Belgium at the invitation of his Belgian counterpart Sufi Wilms.
At Brussels International Airport, Pakistan's Ambassador to Belgium Zaheer Aslam Janjua and senior officials of the Pakistani Embassy bade farewell to the Foreign Minister.
During his brief visit, the Foreign Minister met with Belgian Deputy Prime Minister and Foreign Minister Sophie Williams and discussed a range of issues of mutual interest, including bilateral relations.
The talks focused on issues of mutual interest, including the promotion of cooperation in the fields of bilateral trade, investment, science, education and agriculture.
The foreign minister's meeting with a Belgian foreign minister came after a long hiatus of 10 years.
Meanwhile, the Pakistani Foreign Minister visited the NATO Headquarters in Brussels and met with NATO Secretary General Jens Stoltenberg.
The meeting agreed to maintain the tradition of co-operation in the fight against terrorism.
The last Foreign Minister of the visit, Makhdoom Shah Mehmood Qureshi, co-chaired the sixth round of the Pak-EU Strategic Dialogue in Brussels with EU Foreign Minister and Vice President Joseph Borrell.
The two leaders briefed the media on the nature and details of the Pak-EU strategic dialogue through a joint press conference.
During the visit, the Foreign Minister also met a delegation of Belgians and members of the European Parliament and briefed them on the bilateral relations between Pakistan and Belgium and the details of the strategic dialogue with the European Union.
The Foreign Minister also met with journalists based in Brussels and briefed them on the aims and objectives of the visit to Belgium and the details of the meetings held with various personalities.
Diplomatic sources hope that this brief visit of the Foreign Minister will play an important role in strengthening bilateral relations in the years to come.
.
News from قومی خبریں
#Shah #Mehmood #Qureshi #leaves #Belgium