News Details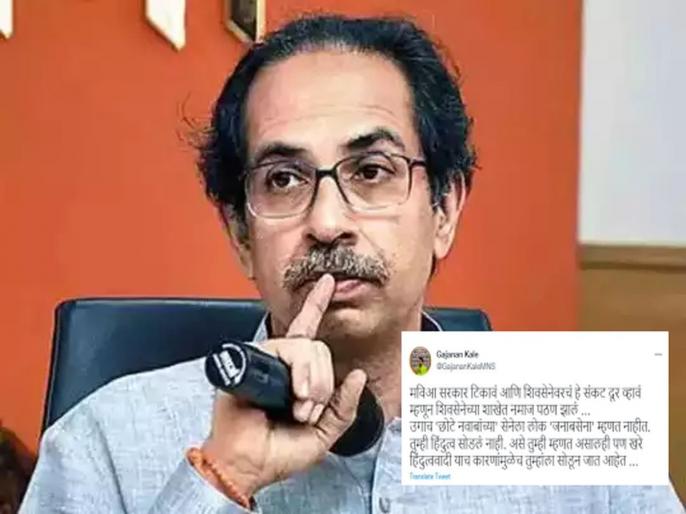 Mumbai: The Shiv Sena has parted ways after the rebellion of about 40 MLAs led by Eknath Shinde. In such a situation, there has been a big ruckus in the politics of the state. Meanwhile, Shiv Sena's rival MNS in Mumbai is attacking Shiv Sena from its current position. Now MNS spokesperson Gajanan Kale has targeted Shiv Sena on the issue of Hindutva.
Gajanan Kale has targeted Shiv Sena by tweeting a video of Shiv Sena offering Namaz in a bid to retain Uddhav Thackeray's government. In that tweet, Gajanan Kale said that prayers were made in the Shiv Sena branch to end the Mawiya government and remove the crisis on Shiv Sena.
Naturally people do not call the army of 'Chhote Nawab' as 'Janaab Sena'. You have not left Hindutva. Even if you say so, but real Hindus are leaving you for the same reasons, said Tola Gajanan Kale.
Meanwhile, the Supreme Court has extended till July 12 the deadline for replying to the disqualification notices issued by Maharashtra Assembly Deputy Speaker Narhari Jirwal to 16 MLAs of the splinter group. Rebel Shiv Sena leader Eknath Shinde and his associates reached the Supreme Court against the notice. Since the next hearing on his petition will be held on July 11, it became clear on Monday that the clouds of political instability in Maharashtra will not dissipate soon.
Shinde and his associates on Sunday moved the apex court against the disqualification notice issued by Jirwal. Take that petition to the Supreme Court on Monday. J. b. Pardiwala and Justice. The hearing took place before a bench headed by Surya Kant. Neeraj Kishan Kaul, a well-known lawyer of Shinde Group, represented the party, while Ed. Presented by Rajeev Dhawan. Maharashtra government's Abhishek Manu Singhvi and Devdutt Kamat argued on behalf of newly appointed Shiv Sena group leader Ajay Choudhary and main protagonist Sunil Prabhu in the assembly. Solicitor General Tushar Mehta appeared in the Supreme Court on behalf of the Central Government.
web title: Shiv Sena Vs MNS:… So True Hindus Are Leaving You, MNS Pushes Shiv Sena Again
get Latest marathi news , Maharashtra News And Live Marathi News Headlines From politics, sports, entertainment, business and hyperlocal news from all cities of Maharashtra.
,