Two Bahia clubs sent images of their work to participate in the national contest "My club fights against trafficking."
It was an initiative emanating from the Secretariat of Tourism and Sports of the Nation that proposed the creation of artistic expressions (murals, for example) that give a message of awareness about human trafficking. And that in our city the NGO Bahía Contra la Trata approached the local branch of the National Union of Neighborhood Clubs.
Although in our environment the clubs that produced the murals were Villa Miter and Calvento, there was interest in a greater number of institutions that for different reasons did not find the deadlines. There was time to present the details of the works until September 30, although it was later extended until last Tuesday.
"The mural was made from listening to the voice and taking into account the drawings of NNyA (girls, boys and adolescents) that are part of the Calvento Club and that within the framework of a previous art workshop allowed to make the mural made, which It was attended by NNyA who attend the Club and people from the neighborhood, "reported Club Calvento.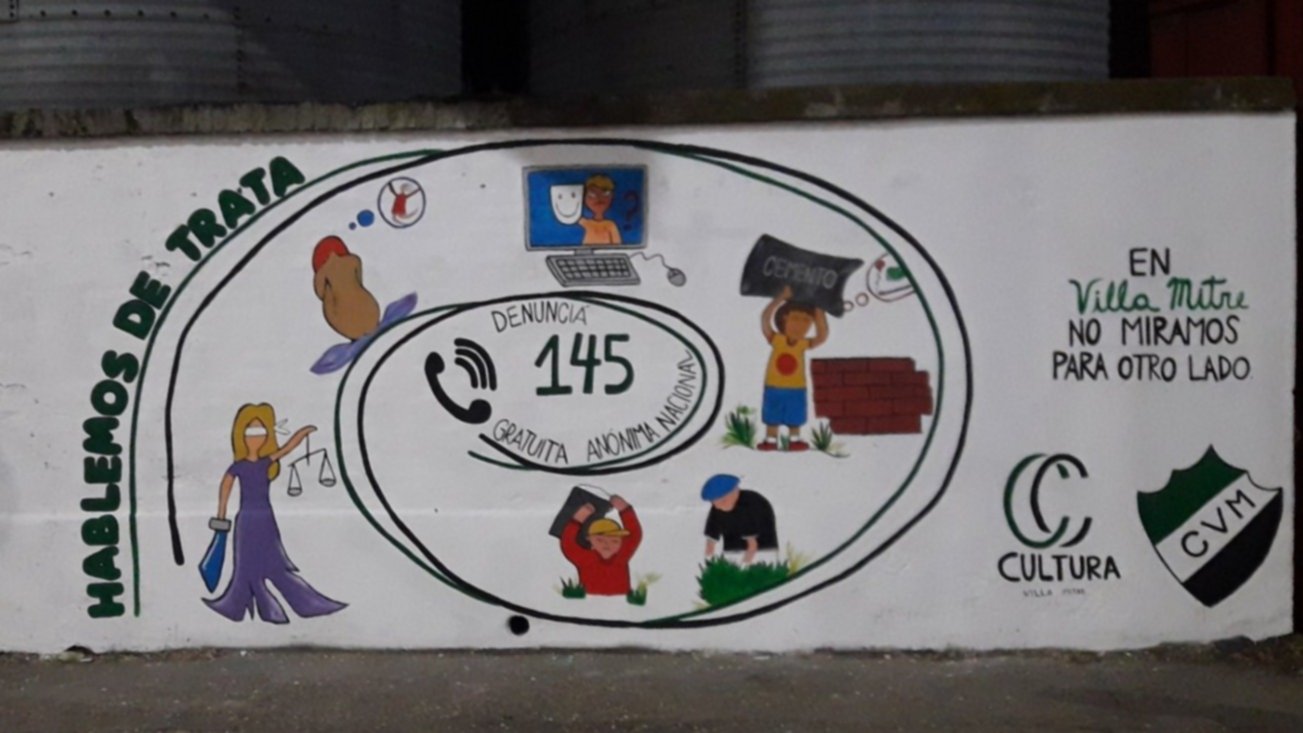 The mural with which Villa Miter participated.
In accordance with the rules, the contest aimed to promote citizen participation and club actors to make visible – in some sector of them – a problem that runs through our society. The organizers of the contest understand that it is a way to "reverse the ignorance and indifference" on the subject.
As published on its website by the government, guiding axes were proposed on an optional basis: awareness, prevention, dissemination of the telephone line 145 and new masculinities around sexual exploitation.
"The National Union of Neighborhood Clubs, a subsidiary of Bahía Blanca, the NGOs Bahía Contra la Trata and Coparte, and the Municipal Museum Directorate led by Christian Díaz participated in the mural activity. Once the boys made the drawing (of the mural), put together sentences and chose colors, the Directorate of Museums put together the sketch. Then it was marked on the wall with a projector that the Directorate lent us, and then the painting began, "said Nadia Delelisi, president of the local UNCB.