By Mikel Iñurrategui / [email protected]
Going through a great historical moment, the top women's team of the Bahiense Hockey Association will once again measure its forces before the great powers of the country, when it disputes from tomorrow the Argentine Championship "A".
It will take place in Rosario until Sunday, under the supervision of the Argentine Confederation.
"We are a team hungry for glory and looking to go for more," admitted captain Florencia Scheverin in dialogue with The new one. before the technical talk waiting for the debut.
Bahía will integrate Zone B together with the Sanjuanina, Cordobesa and Santefesina Association.
The premiere will be tomorrow from 9 a.m. against San Juan and then, at 3:40 p.m., the second date will play against Córdoba. Both matches will take place at the Luciana Aymar World Cup Stadium.
The Bahia group stage will close on Friday against Sante Fe, from 12:20 on the Jockey Club field.
"The fact of not having been able to be at this level for a year, makes us have very high expectations and a lot of desire to play. In my case, it was extended a little more due to the injury (breakdown of ties in 2019), it's a nice rematch. I am living it with great enjoyment. I always enjoyed it but this year I am calmer, valuing every moment more, "added the experienced University player and a symbol of the golden age of the local team.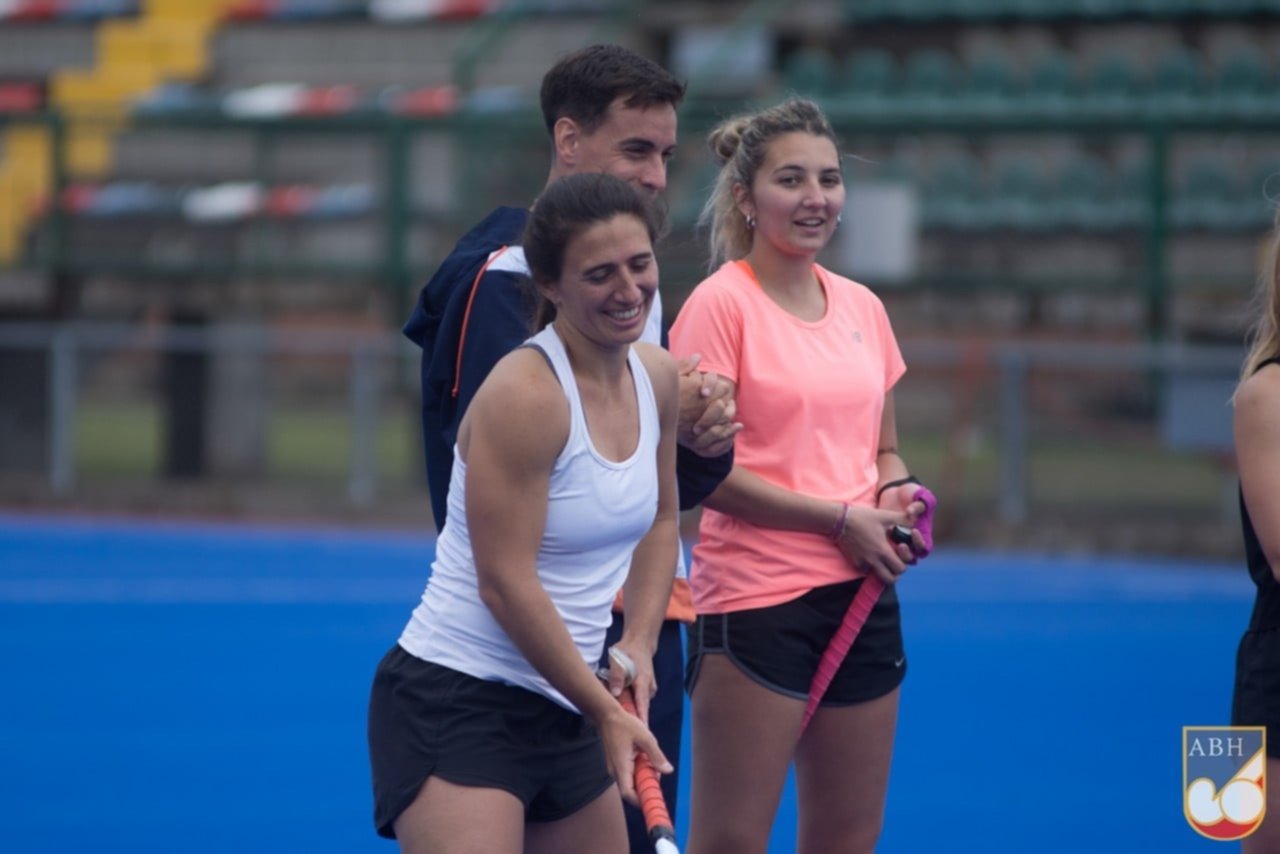 Flor, Pablo Laschiaza (assistant) and Eugenia Etualian, training in Rosario. Photo: ABH.
The team led by Javier Soquiransky arrived this morning in the city of Santa Fe and in the afternoon trained in the World Cup, finalizing details for the start of the contest.
"We are a team that has a long road, that we have been playing together for a long time. This year is a year of change, there are many new players and the goal will be to be able to include them and make them feel part of this whole process" he admitted.
In its last two presentations at the national level – last year there was no activity due to the pandemic – Bahia managed to climb for the first time and consecutively to the third step of the podium.
"The fact of having left for the third two years makes you want to get closer. They were very important achievements when we had recently been promoted. We are a team hungry for glory and looking to go for more, we want to get closer to that and to improve ourselves whenever possible, "said the captain.
"Luckily we have been playing at this level for quite some time and at least one feels comfortable at this level of play. When one comes the first few times it is all trying to see what he will find. Now there is already a certain comfort of knowing that we have in front, "added Flor.
As for the tournament that will start tomorrow, it will take place at the Luciana Aymar World Cup Stadium and on the Jockey Club field.
In addition to the Bahia area, group "A" will be made up of the Mendoza, Litoral, Buenos Aires and Mar del Plata Association.
"I think that Bahia has been working very well for many years and the players who join are at a very high level. Now it is about finding that high level of each one of us in the matches," understood Scheverin.
"The goal is always for Bahia to be at the top. Our history of coming from below means that we always want a little more and seek everything we can to be up there. We do not know after the pandemic how each Association arrives, that will also be a mystery, "he warned.
Regarding her new team role as captain, Flor said that "she is enormously proud, all my life I loved being part of this and being able to have this role gives me a lot of pride and the truth is that I enjoy it a lot."
"I love playing in Bahia, I really enjoy the team, the confidence that was achieved, which is all our work for having wanted to get to this with our Association. Now you enjoy everything we have been achieving, beyond the results," he closed Scheverin.
With Valen among the chosen
Costa Biondi and Ludueña, in practice this afternoon.
Days ago, coach Javier Soquiransky confirmed the list of players who will represent Bahia, among which is Valentina Costa Biondi, a San Fernando player and who comes from win the silver medal with Las Leonas at the Tokyo Olympics.
In addition to Valen, those who joined Bahia who do not play in our field are Yazmín Pallottini (from the City of Buenos Aires), Luciana Argüello (San Lorenzo); Agostina Dottori (San Lorenzo) and Candela Esandi (River Plate).
Florencia Scheverin (University) will be the team captain and Gabriela Ludueña (Atlético Monte Hermoso) will be the sub-captain.
The complete list: Florence Scheverin; Agustina Lértora; Ana Gonzalía; Victoria Fittipaldi; Martina Orioli; María Itatí Ruilópez; Eugenia Etulain; Gabriela Ludueña; Barbara Dichiara; Agostina Dottori; Yazmin Pallottini; Candela Esandi; Valentina Costa Biondi; Lucía López Izarra; Maria Emilia Larsen; Maria Paz Aispuro; Florence Donati; Marina Urruti and Milagros Agesta.
-Coach: Javier Soquiransky.
-Assistant: Mauro Etulain.
-Assistant: Pablo Laschiaza.
-Physical trainer: Luciano Concetti.
-Video: Facundo Sanhueza.
-Team Leader: Marcela Domenech.
-Coordinator: Nicolás Montes.