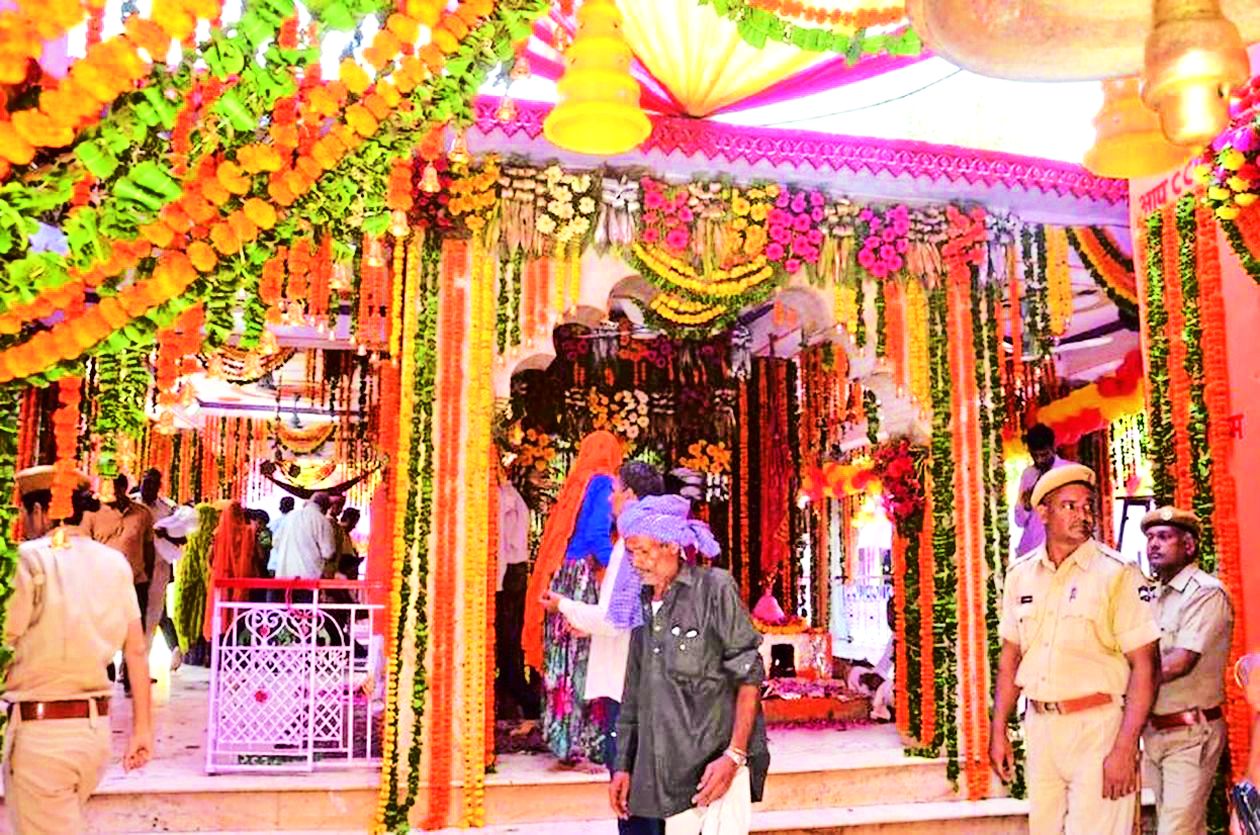 News Updates.
Alwar
Published: September 18, 2023 12:55:39 PM
Hanumanji will be decorated with flowers from Delhi, devotees started arriving
Alwar. Decoration made in Pandupol Hanuman Temple.
Alwar. Lakh Mass will be held at the historic Pandupol Hanuman Temple on Tuesday. The process of the arrival of devotees to the fair has begun. Water ponds and shops will be set up at various locations for the devotees who come to the fair. The Pandupol Hanuman Temple has been decorated with colorful lights for the Lakkhi fair. Also, several quintals of Roses, Mogra, Hazara etc. flowers have been ordered from Delhi with which Pandupol Hanuman will be decorated.
Formal inauguration of the fair today: Temple Mahant Babubal Sharma told that the fair will be formally inaugurated on September 18 in the morning. District Collector, Additional District Collector and SDM of the area will be present on this occasion. Aarti will be performed after seeing the flame of Pandupol Hanumanji and Prasad will be distributed to the devotees. He told that the Ramayana recitation started in the temple on September 16, which ended on Sunday. Devotees recited the Ramayana one by one. Bhandara was also organized on this occasion. The fair committee officials and devotees were present during the closing ceremony. He told that the way has been illuminated from Umri Tiraha to Budhe Hanumanji. Arrangements for water, electricity and cleanliness have been made by the fair committee.
Cameras have been installed in the temple
The temple committee takes special care of the safety of the devotees in the Pandupol fair. Thousands of devotees come to the fair, due to which around 16 cameras have been installed in the temple premises. Because of which surveillance will be maintained all around.
After the fulfillment of the vow, the devotees do "Savamani": Pandupol. People have great faith in Hanumanji. Devotees come here from far and wide for darshan and wishes. When the wishes are fulfilled, Bhandara and Savamani are organized in the temple. On Sunday, devotees from Haryana organized a Bhandara at Pandupol Hanumanji temple complex.
The committee will provide free treatment services
.