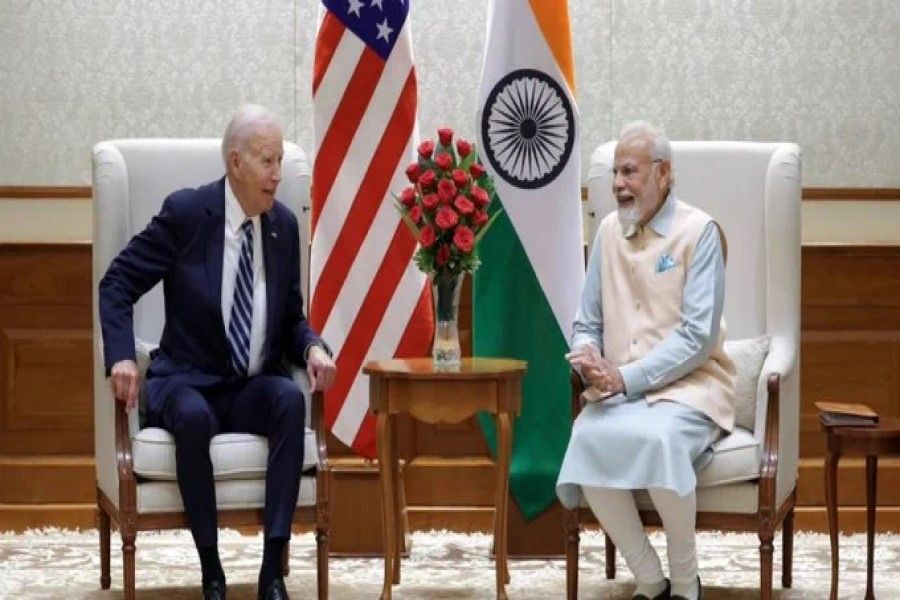 News Updates.
Unprecedented: When Biden and Modi met, the US press corps was sequestered in a van, out of sight of the two leaders – an unusual situation for reporters and photographers who follow the US president at home and around the world. https://t.co/I0mRiy5SbK

— Hümeyra Pamuk (@humeyra_pamuk) September 8, 2023
Congress alleged that US President Joe Biden's team has said the government did not allow the media to ask questions of Biden and Prime Minister Narendra Modi after their bilateral meeting in Delhi ahead of the G20 summit.
Congress general secretary Jairam Ramesh wrote on Twitter (x), "President Biden's team says that despite repeated requests, India has not allowed the media to ask questions of Biden and PM Modi after the bilateral meeting." He said, "President Biden will now answer questions from the media present with him in Vietnam on September 11. This is not at all surprising. This is Modi democracy."
It is important to mention here that the media persons who had brought Biden from America had actually asked the Biden administration to allow them to question both the leaders after their meeting. The Biden administration agreed to this but was refused by the Indian government. Actually, Reuters first reported this.
Reuters reports that Biden held a closed-door meeting with Modi shortly after arriving in New Delhi on September 8. When Biden and Modi met, "journalists from the American press were confined to a van, out of sight of the two leaders. It was an unusual situation for reporters and photographers who routinely cover the American president at home and around the world. They are recording it the US President's public appearances and questioning him at every opportunity.The US government has so far never imposed such restrictions on the media.

Reuters foreign policy reporter Humaira Pamuk, who covers the US State Department, tweeted: "Questions remain about press access to the India visit, as it was not initially mentioned in the official White House program that Modi – The usual group of journalists will be allowed there during The Biden meeting.
Prime Minister Modi's office released some official photos of the meeting, which show the two leaders sitting next to each other and chatting cordially, Reuters said.
Reuters has written – Questions have been raised about press access during the India visit, as the official White House program did not indicate that the general group of journalists would be allowed during the Modi-Biden meeting.
Kurt Campbell, senior US official for Indo Pacific policy, told Reuters – Biden spoke to Modi about the importance of a healthy democracy. "He's not doing this in a way that makes it sound like one country is preaching to another, but rather shows that we all face common challenges," he said.
Campbell said he would not want to discuss press access. He said Biden prefers to address such topics in person.
The US press pool, which accompanies the president on foreign and domestic trips and usually has some access to major events. It is extremely rare that they are completely banned like this. The press pool consists of journalists and photographers from major American media who have also visited India.
More news from the country
Prime Minister Modi likes to call India the "Mother of Democracy". It has been nine and a half years since they came to power. But he is yet to address a single press conference in Delhi. When he went on a trip to America in June, an American journalist had raised pointed questions about democracy in India. With some discomfort, PM Modi responded in a "sab changa si" style. But the American journalist was massively trolled by the BJP and its supporters.
.