News Details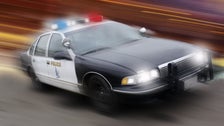 A driver's reasoning for a 40-mile police chase that sometimes reaches 100 mph is out of a movie script.
Appearing in Westmoreland County Court on Tuesday, Lee said he stole a car for the chase because he was "tired of walking." However, his interpretation did not stop there.
"I thought I was a time traveler because I was on drugs. I was not trying to hurt anyone," Lee said.
"I tried to save my son."
According to police, officers followed him on the Pennsylvania Turnpike until he hit a spike strip that had been placed across the highway.
He tried to flee, but officers beat Lee with a taser and then took him into custody, police said.
Charges against Lee include aggravated assault by vehicle, driving while intoxicated, fleeing police and resisting arrest.
He could face up to 10 years in prison.
.