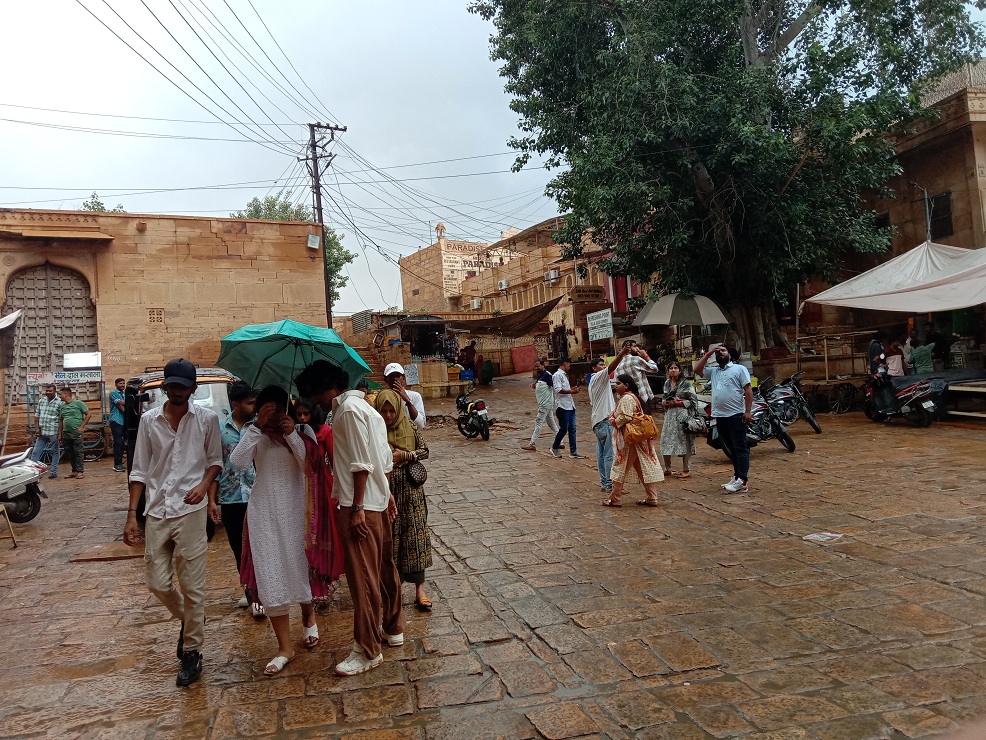 News Updates.
Jaisalmer
Published: September 19, 2023 20:03:01
– The hope for heavy rain still unfulfilled
Video: Shower of drops:- Roads and streets drenched in Jaisalmer since morning
Jaisalmer. Amid the yellow warning of moderate to heavy rain, drizzle continued throughout the day in Jaisalmer on Tuesday. Due to this, the weather became pleasant, although the desire for heavy rains is still not fulfilled. The clouds remained anchored in the city's sky from morning to night. It rained several times from the beginning of the day until the afternoon. The rain in the month of Bhado, sometimes in very light and sometimes in the form of thick drops, made people happy. Along with this, the tourists visiting the city enjoyed visiting the sightseeing spots in the cool weather. The sun remained hidden behind the clouds almost all day and the maximum temperature dropped to 32.6 degrees. Until a few days ago, the maximum temperature had reached 40 degrees.
People injured by heat received relief
Due to the scorching heat and humidity in Jaisalmer for the past few days, the residents of Swarnnagar and the tourists visiting here have got a lot of relief due to the drizzle. Since morning, tourists roaming around Sonar Durg and other tourist spots and markets have been seen holding umbrellas in their hands and taking photographs in a pleasant atmosphere. Similarly, the enthusiasm of the locals to celebrate the festival of Ganesh Chaturthi was redoubled. It is noteworthy that this time the scorching heat of September broke the record of more than seven decades. In general, until the month of September, the days are not so hot and those who sleep outdoors feel a little cool at night. This time in the first two weeks of September, the minimum temperature has also reached the level of 25 to 27 degrees.
.