Pro IQRA News Updates.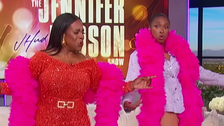 hot off her Emmy win, dropped Sheryl Lee Ralph for "The Jennifer Hudson Show" this week to make some "Dreamgirls" magic.
Long before her time on ABC's "Abbott Elementary," Ralph was a hot commodity on Broadway, playing Dina Jones in 1981's "Dream Girls." The musical was also pivotal for Hudson, who won an Academy Award for Her role as Evie White in the 2007 film adaptation.
On Tuesday's episode of her daytime talk show, Hudson asked Ralph about her experience with Broadway director Michael Bennett as well as working alongside fellow actors Loretta Devine and Jennifer Holiday, who have become stars in their own right.
"These women in the room weren't singers – they were SangersRalph said. "The building was rising out of concrete, that's how cool they are."
When the show's creative team asked Ralph to sing "Something from the Church," she chose the song "Ave Maria," which received a muted response.
"I think they were thinking of something more in the Baptist vein," she joked. "They didn't know I was a little Episcopal girl. So I sang my little song and sat down."
Moments later, Ralph asks Hudson to join her for an impromptu performance of the music's title song, along with a mini remake of the original dance—the Feathered Boa and all.
Watch Sheryl Lee Ralph's appearance on "The Jennifer Hudson Show" below.
Elsewhere in the interview, Ralph touched on goosebumps, including her Emmy Award acceptance speech, noting that her win "still feels great" more than a week later.
"I was in absolute shock," she recalls. "I didn't think it was me. I was there to support my cast, the cast members. I thought it was going to be someone else… I honestly don't remember getting up from my seat. I don't remember getting on stage."
Of course, that doesn't mean Ralph attended the September 12th party unprepared.
"Like many of you, I've prepared a letter since I was five," she said. "And when they called my name, it all came out of my head."
.