News Details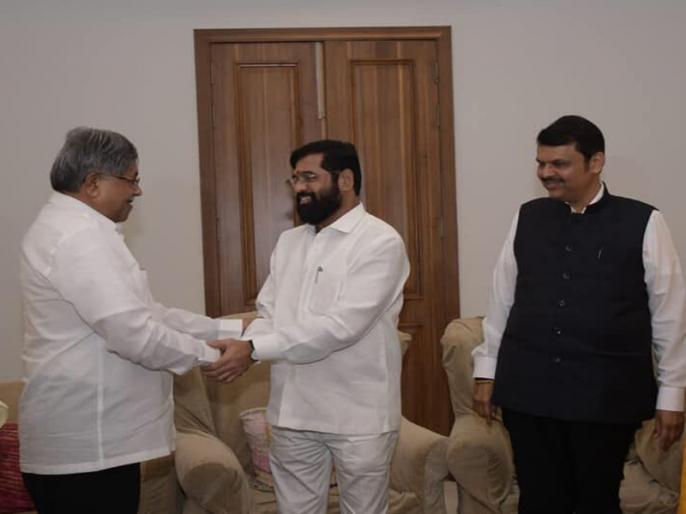 Mumbai: A new twist has come in the politics of the state which has been going on for the last few days. Rebel Shiv Sena leader Eknath Shinde will be the Chief Minister of Maharashtra. He will get the support of BJP. BJP leader Devendra Fadnavis has announced that he will support this government.
Devendra Fadnavis and Eknath Shinde went to the Raj Bhavan and demanded the establishment of power from Governor Bhagat Singh Koshyari. After that Devendra Fadnavis held a press conference and commented on various topics. An alternative government was needed after the resignation of Uddhav Thackeray. Hence today Eknath Shinde will become the chief minister with the support of Shiv Sena legislature party, BJP and 16 independent candidates under the leadership of Eknath Shinde, said Devendra Fadnavis. Devendra Fadnavis said that today only Eknath Shinde will take oath at Raj Bhavan.
He met Bharatiya Janata Party leader Devendra Fadnavis at his official residence in Sagar. pic.twitter.com/7cu2TxIHay

– Eknath Shinde – Eknath Shinde 30 June 2022
BJP and Shiv Sena had an alliance in the 2019 assembly elections. Through this alliance, BJP got 105 seats and Shiv Sena 56 seats. We had a majority of 170 out of 161 alliances and independents. BJP-Shiv Sena coalition government will be formed. At that time Prime Minister Modi had announced that he would become the Chief Minister of BJP. But unfortunately after the result of that election, Shiv Sena and its leaders took a different decision, Devendra Fadnavis said.
Meanwhile, no new development plan of any kind has been made through Maha Vikas Aghadi in the last two and a half years. Two ministers went to jail for corruption. On the one hand, Hon. Balasaheb Thackeray constantly opposed Dawood, who was the enemy of the country. On the other hand, he supported the ministers associated with him. Every day Savarkar was insulted and Hindutva was hated. Unless the cabinet can be taken without a vote of confidence. He approved the proposal. They will not be considered valid. "We will have to take this decision in the next cabinet," Fadnavis said.
web title: Devendra Fadnavis also told that today only Eknath Shinde will take oath at Raj Bhavan.
get Latest marathi news , Maharashtra News And Live Marathi News Headlines From politics, sports, entertainment, business and hyperlocal news from all cities of Maharashtra.
,